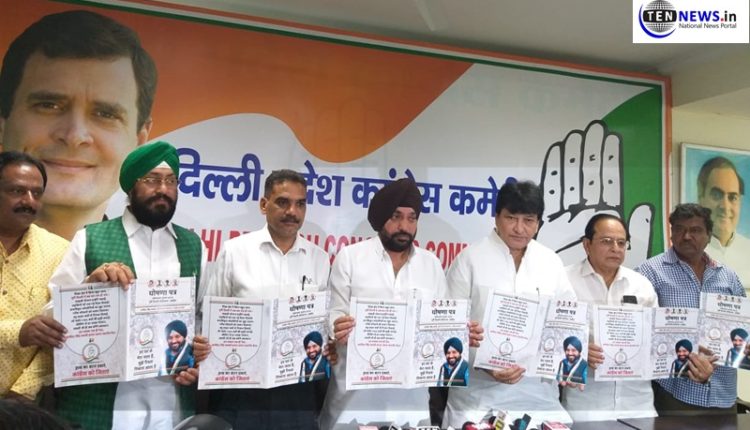 Arvinder Singh Lovely, Congress Lok Sabha Candidate launches his Manifesto for East Delhi!
Saurabh Kumar / Baidyanath Halder
New Delhi: Arvinder Singh Lovely, East Delhi Candidate from congress party today launched his manifesto specifically for his constituency. In the press conference he listed his prime objectives, and described the blue print through which he will pace up the development in the East Delhi Area.
Addressing the Media, he said,
"Tomorrow we are hosting a meeting in Ramlila Maidan, where Rahul Gandhi will also be present.  I know the problems of East Delhi and will try to solve them, the area is lacking basic amenties. Gautam Gambhir dont have any  idea about East Delhi he is not even intrecting with public now what he Will do after election god knows."
Speaking to Ten News he listed his priority "Issues like water supply, pollution,  public transport, women safety,  unemployment will be my key agenda."
Over a question on hype of nationalism in this election he said, "Everybody is a nationalist but the people who don't have any agenda they make this a nationalism a issue."
Keeping focus on pollution, loverly talked about Ghazipur land fill site as this issue also got space in BJP Manifesto, "The past government had made the situation worse by neglecting  such a important issue.  For now people living there in a very hazardous environment,  place like Anand Vihar always counts among highest polluted places in Delhi and the credit goes to past government.  1000 busses are about to phase out within six months but government don't have any alternative of it. So the public transport in the national capital is in worse condition.
Arvider Singh Lovely also claimed that he only requires 6% increase in their vote percentage from last election to win east Delhi lok Sabha seat.