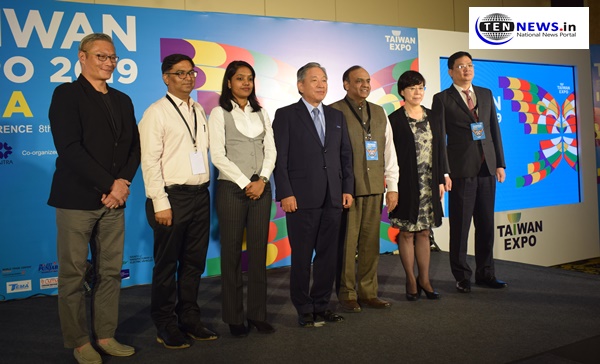 Curtain Raiser: Taiwan Expo 2019 to Strengthen India-Taiwan Business Relations!
PRERIT CHAUHAN/ JITENDER PAL- TEN NEWS
New Delhi: (08/05/2019) Bureau of Foreign Trade (MOEA) and Taiwan External Trade Development Council (TAITRA), Taiwan's foremost trade promotion body announced the second edition of 'Taiwan Expo' at Pragati Maidan in New Delhi, India to be held on May 16-18, 2019.
The announcement was made during the press conference that took place in New Delhi today. There will be series of activities that are scheduled to take place in New Delhi to mark the beginning of the event which includes a series of industry forums, trade meetings, Taiwan cultural performances and other range of exciting events such as Taiwan day tour via AR and lucky draw.
The press event was attended by Karen Pai, Deputy Executive Director of Taitra, Ambassador Tien Chung- Kwang, Taipei Economic and Cultural Center in India (TECC), Manish Singhal, Deputy Secretary General and Head International of FICCI, Deepak Kumar, Executive Director (ITPO), and Madhumitha Ramanathan, Vice President of Invest India.
While addressing the media delegates, Karen Pai, Deputy Executive Director, TAITRA, said,
"Looking at India from a Taiwanese perspective, we see a vibrant country that is full of possibilities. In addition to India becoming the most populous country in the world, in 2028, New Delhi is set to overtake Tokyo the most populous city in the world. India's future is full of possibilities and is an incredible place that Taiwan simply cannot miss. I also want to tell everyone here that Taiwanese companies, products, technologies, and tourism channels are ready to reveal their strengths, create new links with India, and generate mutual progress and prosperity together."
Taiwan Expo 2019 will see participation from 130 exhibitors showcasing their state-of-the-art products through 230 booths. The show will be open between 10:00 AM to 6:00 pm.