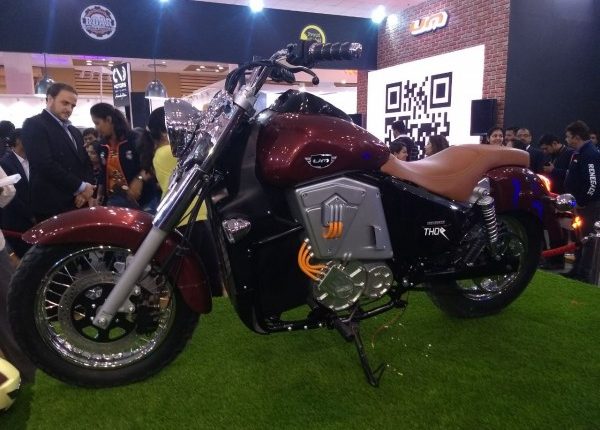 Auto Expo 2018: UM Motorcycles Renegade Thor Electric Cruiser Launched In India At Rs 4.9 Lakh
Greater Noida: UM showcased three new models at the 2018 Auto Expo, with one of them being the Renegade Thor, an electric cruiser. The other two were the Renegade Duty S and the Renegade Duty Ace. Both bikes get a 223 cc engine and the starting price is at Rs. 1.1 lakh.
UM Motorcycles took the wraps off three new motorcycles at the 2018 Auto Expo. The first one is the UM Renegade Thor, which is the world's first electric cruiser motorcycle and the prices start at Rs. 4.9 lakh. The catch is that the bike will be launched in India only in 2020! Yep, that's a dampener. The motor on the Renegade Thor makes 30 kW of peak power along with 70 Nm of torque and gets a 5-speed transmission. Also, it gets a reverse gear as well along with LED lights and an optional fast charger, helping the bike to charge up to 80 per cent in 40 minutes. Also, UM will be offering three types of chargers for the Renegade Thor. Also, the Renegade Thor will get anti-lock brakes as well.
The other motorcycles to be unveiled were the Renegade Duty S and the Renegade Duty Ace. UM calls these motorcycles as urban cruisers. These two bikes feature a 223 cc single cylinder engine which makes almost 17 bhp of max power at 8,000 rpm and 17 Nm of peak torque at 5,000 rpm. The engine is paired to a 5-speed gearbox