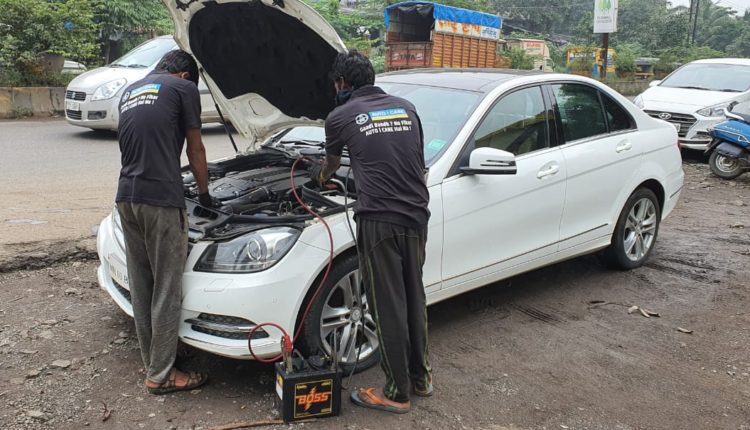 AUTO i CARE offers end-to-end roadside assistance service to 10,000+ vehicles in the times of COVID-19
Mumbai 8th Oct 2020: Highways are the lifeline of our country, with millions of tons of produce and millions of people travelling on in at any given time. And, it is a desperate situation, if your vehicle breaks down and you have nowhere to go. The answer to the age old question of where will we get a mechanic or a garage especially during the dead of the night lies with "AUTO i CARE", a specially curated mobile app for end-to-end roadside assistance. Essential service vehicles have been the main beneficiaries of AUTO i CARE services during the pandemic which enabled them to keep their wheels turning and helping the ones in need. Founded by Mumbai based automobile whizz Sagar Joshi, AUTO i CARE mobile app is aimed at providing quick and efficient repair service on Indian National highways, State Highways and rural, interior roads for issues like breakdown on highways, or common issues like tire replacement, jump-start, low fuel, or vehicle unlock, as well as major repairs to the vehicles or to have it towed to a local garage or mechanic and more.
While Maharashtra – Goa saw 3052 calls being addressed for vehicle breakdown, Delhi NCR saw 500+, Haryana saw 489+, West Bengal registered 440, Uttrakhand, the city of mountains saw 111+ calls to Punjab at 285+. These numbers are on an upsurge and almost 125+ calls are being addressed daily through the app during the pandemic. AUTO i CARE has thus provided assistance to over 10000+ motor vehicles to reach their destination safely by helping with repairs and other services on the highways till date. In a short time, AUTO i CARE has spread it wings from Dombivali which is a distant suburb outside Mumbai to cover 2,28,000kms on 238 highways and reaching out to nearly 998 cities and towns in India. The bootstrapped startup promises to address roadside assistance concerns within 20-30 minutes and provide 24×7 vehicle breakdown assistance nationally with 48000 local garages across India registered with the app.
Sagar Joshi, Founder, AUTO i CARE shares, "Around 48000 garages are registered on The AUTO i CARE app providing assistance at a very short notice. During this lockdown, team AUTO i CARE has successfully overhauled over 10000 vehicles across the country which included essential services, private vehicles and heavy vehicles till date. The latest features in the app include finding nearest Petrol Pump to nearest charging station for your electric vehicle to nearest pay and park facility to finding driver. Our core team has worked hard to ensure assistance was provided promptly during COVID times". The global market size of roadside assistance is expected to reach $29 billion by 2026 and is growing at a CAGR of 3.8 percent. While sharing data of breakdowns in COVID times, He further added, "Since the beginning of the lockdown in March, we have received breakdown calls from far flung areas like Himachal Pradesh and Jammu & Kashmir where we successfully handled over 100 requests, highest number of calls were handled from Maharashtra and Goa with over 3000 fulfilled, Telangana saw 502, Kerala numbers were at 386, Madhya Pradesh at 305, Uttar Pradesh at 182, West Bengal was at 440, Bangalore saw 337, Rajasthan at 354 and many more It is heartening to see that AUTO i CARE is slowly turning into a trustworthy partner for the weary road travelers. Soon we are launching our dedicated services for bikes and heavy vehicles as well".
AUTO i CARE app provides real-time tracking of the inbound support vehicle – similar to popular ride-hailing apps – with an estimated time of arrival, automated SMS status updates, and tow driver contact information. Idea is to attend car issues in just 4 clicks on the mobile app and available at quite a reasonable cost. The extremely user friendly AUTO i CARE mobile app helps the customers with their planned car servicing as well as unplanned car servicing feature. Planned car servicing is the annual servicing for your car and Unplanned car servicing entails requesting roadside support anytime for a breakdown on highways for common issues like tire replacement, jump-start, low fuel, or vehicle unlock, as well as major repairs to the vehicles or to have it towed to a local garage or mechanic.
The AUTO i CARE, tie-up with local mechanics and vendors from across the country, created employment opportunities and boosted Government of India's #vocalforlocal initiative. AUTO i CARE is soon planning to start their standalone AUTO i CARE service centers. AUTO i CARE services can also be availed for bikers in Mumbai and Pune and very soon will also cater to heavy vehicles. AUTO I CARE utilities consist of equipped workshops, expert workmanship, free pickup & drop, authentic spares and service warranty.