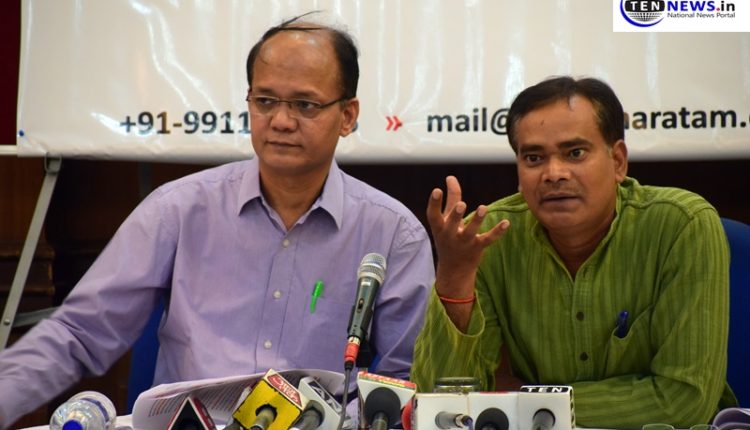 Azad Bharatam Party demands to Decentralise Central Govt to reduce Delhi's Air pollution and congestion
Talib Khan (Photo-Video) Lokesh Goswami Tennews New Delhi :
New Delhi, (9/5/2019): Today, Azad Bharatam, a new liberal political party, organized a press conference in New Delhi to suggest some important tactics to reduce the Delhi's Air pollution and congestion.
Azad Bharatam suggested that all central ministries, departments and constitutional authorities be shifted out of Delhi and relocated to all other states and Union Territories of the country in order to reduce the capital's population by 30 lakh so that the toxic air pollution and congestion could be brought within the tolerable limits. Although, it made an exception for the Parliament, Rashtrapati Bhawan, the PMO and constitutional bench of SC.
Elaborating on the demands and suggestions Azad Bharatam's founder Rakesh Agarwal said, "every Delhiite dies 10 years sooner due to air pollution which also causes 30,000 deaths per annum which is 20 times more than road fatalities. Delhi is the most polluted capital city in the world. We should also declare air pollution a national emergency just like UK's parliament".
"Can anything be more important than life itself? The day is not far when every school going child wearing a mask attached to an oxygen tank will become a common sight. Just showing commitment to environment and transport in election manifestos is not enough. The political parties must frame and lay their plans to tackle the epidemic of air pollution and traffic jams", he added.
He further said, that "pollution and congestion can only be tackled by reducing the population of Delhi and the single biggest bold move the government can make is to move itself out of the capital city and spread itself all over the country".
The party suggested that a new master plan should be drawn up for Delhi and all emptied out buildings and spaces, playgrounds for children, universities, hospitals, institutions of arts and heritage, shopping areas, commercial hubs and slum free in city accommodation for service class people.
The Azad Bharatam is an ideologically liberal political party and will make its electoral debut in Vidhan Sabha elections of Delhi in 2020.