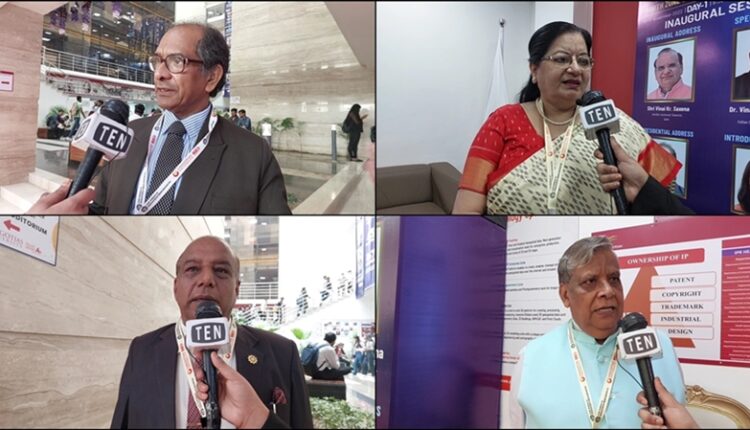 Better faculty, collaborations can help bring more foreign students to India: Vice Chancellors at Galgotias University
Ten News Network
Greater Noida, Nov 11, 2022: On Thursday the North Zone Vice Chancellors Meet was held at Galgotias University in Greater Noida, where industry leaders shared their visions and insights for growth of the higher education domain in the country.
The event, which was organized by the Association of Indian Universities (AIU), saw leading academicians and vice chancellors of revered universities coming together to expound upon the steps taken up by Indian institutions to attract foreign students.
Speaking to Ten News, Dr. Suranjan Das, AIU president, stated that the Indian government is placing a lot of emphasis on "internationalisation of higher education" following the passage of the National Education Policy (NEP) document.
Dr. Das stated that the government has taken steps to ensure that students and academicians can go to foreign counties for better exposure. Simultaneously, the government is also focused on creating opportunities for foreign studies to pursue education in India as well as incentivising top-notch institutions across the globe to establish their campuses in India.
"When going for internationalisation, we should do it in the context of equity and access so that the students across different caste, class, and gender can avail of the fruits of higher education," said Das. He further stressed that the entire process shall be carried out with regard to Indian knowledge and value infrastructure.
Najma Akhtar, Vice Chancellor of Jamia Millia Islamia University, stated that exhibiting and showcasing the quality and economically feasible nature of Indian education in foreign countries can help attract more international students.
Speaking on the challenges that Indian universities need to overcome, Prof (Dr.) R.K. Gupta, Vice Chancellor at Maharaja Agrasen University, said that it is now high time to upgrade the educational infrastructure of our nation and the new education policy can help improve the standard of education exponentially.
Dr. Gupta also stressed that a lot of Indian universities lack hostels that can meet the needs, hospitality level and food requirements expected by international students.
Professor RK Sinha, Vice Chancellor of Gautam Buddha University, also reiterated the importance of quality professors and infrastructure to incentivize international students to pursue education in India. He shared that one of the main attraction that brings foreign students to his institution is the offering of a scholarship by the Indian Council of Cultural Relations.
Prof B Labh, Vice Chancellor of Nava Nanda Mahavihara, shared that Indian universities shall place special emphasis on original Indian sources of education like the Vedas which were not only focused on philosophical studies but also explored medical sciences, astronomy, metallurgy, and so forth.
Prof (Dr.) Kuldeep K Raina, Vice Chancellor of Ramaiah University, spoke very highly of the new education policy which focuses on peer learning and creation of state-of-the-art educational infrastructure in India as well. "In India, we are now gearing up to create infrastructure, various facilities, state-of-the-art laboratories to show that quality of education in India is on par with international level of education," Dr Raina concluded.