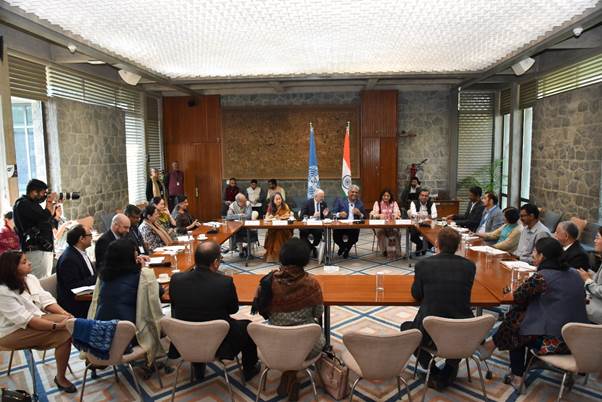 New Delhi, Nov 24, 2022: The Union Minister of Environment Forest and Climate Change Bhupender Yadav addressed the special United Nations Country Team (UNCT) gathering on the important themes and takeaways from CoP 27 at UN House, today. After the meeting, the inauguration of the Climate Change Photo Exhibition with the Swiss Embassy took place at the UN House in New Delhi.
Addressing the special UNCT meeting, Bhupender Yadav said, "At COP26 in Glasgow, Prime Minister Shri Narendra Modi shared his vision of LiFE – Lifestyles for Environment as a key approach to promoting sustainability and combating climate change. Since then, much work has been done to translate this vision into a plan of action. Mission LiFE was conceptualized to take forward this message to the global community."
He further continued, "COP27 has established a 4-year work program on climate action in agriculture and food security. Agriculture, the mainstay of livelihoods of millions of smallholder farmers, will be hard hit from climate change. We look at the agriculture sector primarily as a sector for adaptation and building climate resilience. We should not burden our smallholder farmers and pastoralists with mitigation responsibilities."
He ended his address by saying, "Three critical projects on fulfilling reporting requirements under the UNFCCC and Paris Agreement have not yet taken off, even one year after its approval by GEF. Such delays are strictly avoidable." He urged the concerned UN agency to take note of the same and to ensure the launch of the projects in the coming months.