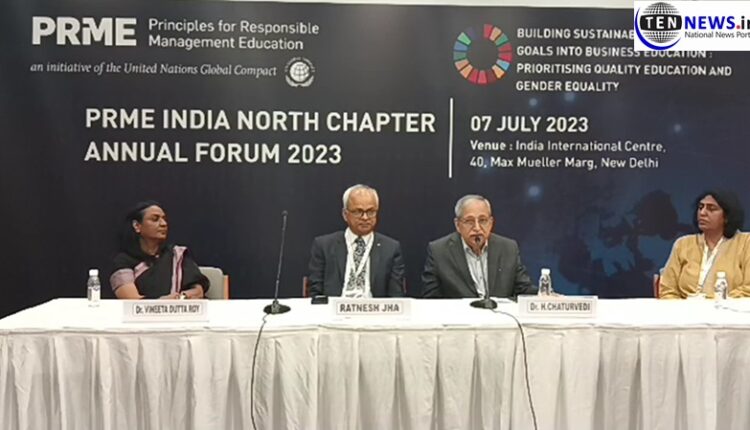 New Delhi, 07 July: On Friday, BIMTECH successfully hosted the PRME India North Chapter Annual Forum 2023, centered around the theme "Building Sustainable Development Goals into Business Education: Prioritizing Quality Education (SDG-4) and Gender Equality." This event, supported by the Principles for Responsible Management Education (PRME), a United Nations-backed initiative established in 2007, aimed to cultivate sustainability and social equity awareness among business students, empowering them to become responsible leaders.
During his welcome address, Dr. H. Chaturvedi, the director of BIMTECH, highlighted the significance of PRME in promoting sustainability and social consciousness among business students. Reflecting on their long-standing membership since 2008, he acknowledged PRME's global impact over the past 15 years.
Dr. Chaturvedi emphasized the importance of integrating PRME principles into business education to develop responsible leaders. He underscored the necessity for corporate leaders to embrace these principles, as failing to do so may result in a sole focus on growth and GDP. However, by adhering to the PRME agenda, a robust framework can be established that aligns with the SDG 2030 objectives.
Delighted by the presence of numerous renowned management schools in the Delhi NCR region, Dr. Chaturvedi acknowledged the strength in unity as these top institutes collectively collaborate with PRME North India. He stressed the need to not only train future business leaders but also transform organizations into role models by adopting the six principles advocated by PRME. These principles should be integrated into the curriculum, and faculty members should be equipped with the necessary knowledge through comprehensive training.
As the Guest of Honor, Dr. Chandrika Parmar, the PRME India Chapter Chair of SPJIMER, expressed her commitment to empowering students to champion the PRME agenda in the future. Recalling a previous PRME community meeting, she highlighted the initiative's objective of establishing four hubs to disseminate PRME principles widely and democratize access. She emphasized the support and collaboration of various organizations on this journey, emphasizing the critical nature of future thinking, responsibility, and the SDGs.
Building upon the discussion of growth and GDP, Dr. Parmar proposed exploring alternative ideas for sustainable development. She encouraged students, acknowledging their role as future leaders, to infuse such thinking into the curriculum.
Furthermore, Ratnesh Jha, ED, United Nations GCNI, in his statement, emphasized the importance of increasing participation and engagement in discussions surrounding PRME. He envisioned PRME playing an active and catalytic role in shaping sustainable development, with students at the forefront of this movement.
To foster a deeper understanding and engagement, Ratnesh Jha suggested regularly visiting PRME's website, where global insights and perspectives are shared. He urged students to make it a habit to explore the site at least once a week. Additionally, he emphasized the significance of sharing experiences and knowledge with others to highlight the importance of the PRME agenda, fostering further dialogue and uncovering new perspectives.
The forum aimed to expand its reach and impact, with the idea of establishing a monthly learning forum where PRME member institutions can convene and discuss relevant topics. These interactions would lead to a comprehensive report, enhancing collaboration and knowledge-sharing among members.