BIMTECH kicks off 11th edition of International Conference on Management Cases

Birla Institute of Management Technology, Greater Noida (NCR) launched the 11th edition of the International Conference on Management Cases (ICMC), 2021 in collaboration with the University of Eastern Finland and the University of South Florida on December 3rd, 2021. The virtual event is being held from 3rd to 5th December 2021.
ICMC focuses on international relevance and encourages authors worldwide to present their case studies, teaching cases, empirical data or experience in various facets of management.
In his welcome address on the inaugural day, BIMTECH Director Dr Harivansh Chaturvedi acknowledged the panellists, highlighted the importance of the case study method in the present world and expressed his hearty welcome to everyone present.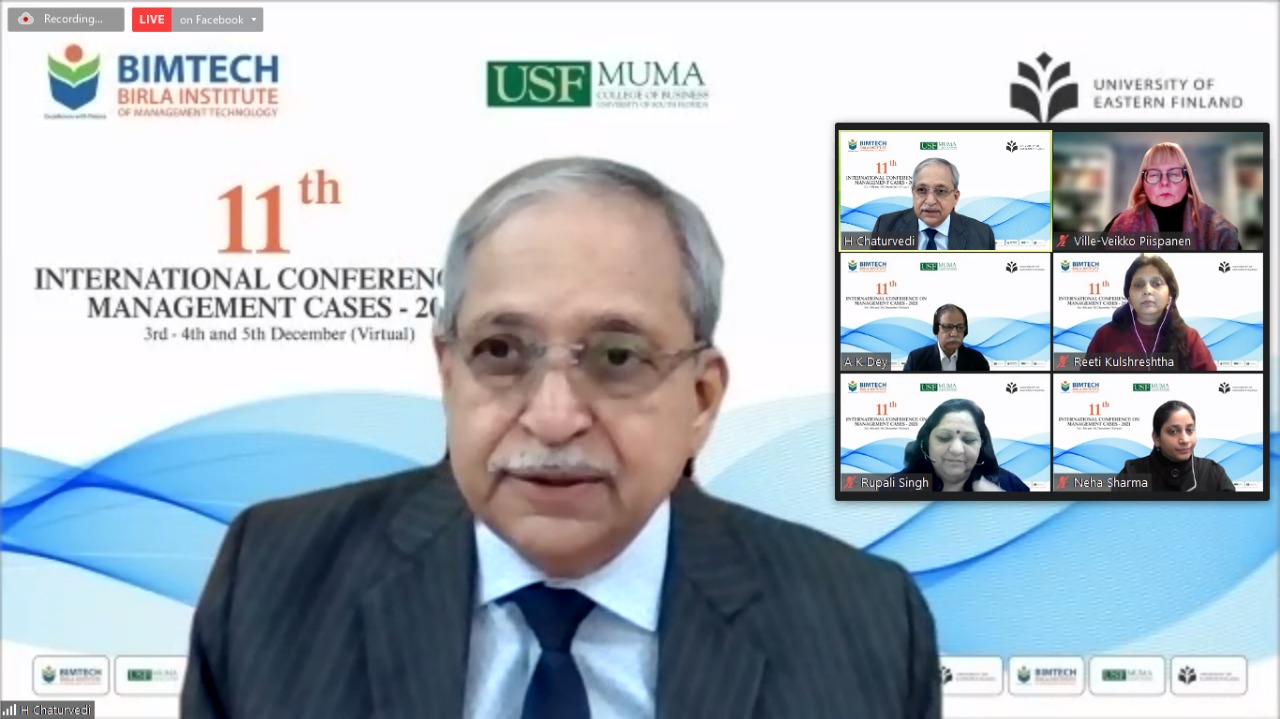 This was followed by a conference preview by Prof. A.K. Dey, Chairperson CMCD, BIMTECH who also shared the vision of the Centre for Management Case Development and the conference.
Then the chief guest Prof. Rauno Sairinen, Professor of Environment Policy, University of Finland addressed the audience. He talked about "Paradoxes in sustainable and green business: How 'dirty' mining industry is developing itself as climate saver and responsible actor?" He spoke on a very relevant topic and the deliberation would give many directions for case research to solve local problems.

Then the most insightful segment was a Q/A where the participants got an opportunity to get deeper insights  from Prof. Rauno Sairinen.
Soon after the address, two conference books titled 'Case Studies on Perspectives on Entrepreneurship and Sustainability and 'Case Studies on Perspectives on Management and Digital Business', were released by Dr Shreya Mishra, Assistant Professor, BIMTECH. 
Following the book release, the Awards were announced in three different categories which include Sage Best Case Awards to high-Quality Research Cases, Three Case Centre Awards UK, to high-quality Teaching Cases and Young Scholar Awards to four scholars under the age of 40. Further, Awards of Case Competition held for first years Management students as well as Summer Internship Competition for Second Year Management Students were also announced. In total 16 awards were conferred during the program.
The event concluded with a customary Vote of Thanks by Dr A. Sahay, Dean (Research), Professor Strategic Management who began by thanking keynote speaker Prof. Rauno Sairinen who brought the subject of paradoxes in sustainable green business to the table and also about the environmental damage and then told about ISO twenty- six thousand and global reporting initiative. He then thanked Prof Sunil mitas who is a great scholar and has been contributing to ICMC. Lastly, he thanked Dr Harivansh Chaturvedi, Director, BIMTECH and Prof. A.K. Dey, Chairperson CMCD, BIMTECH. The event ended on a positive and delighted note.