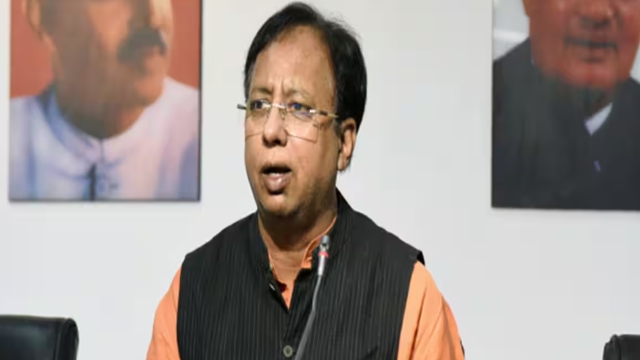 BJP MP Sanjay Jaiswal faces backlash for citing Sonia's foreign roots to attack Rahul
Ten News Network
New Delhi (India), March 28, 2023: BJP MP Sanjay Jaiswal sparked controversy today with his personal attack on the Gandhi family while protesting against Rahul Gandhi's recent remark on the Modi surname.

Jaiswal stated that "a person born to a foreign woman can never be a patriot" and claimed that those were the words of Chanakya from 2,000 years ago. He further accused Rahul Gandhi of insulting India abroad and called him a "habitual offender."
The BJP has been escalating its attack on Rahul Gandhi for his comments on the Modi surname, with MPs accusing him of insulting other backward classes (OBC) by calling them thieves. The party held a protest demonstration at the Gandhi statue in Parliament, demanding an apology from Gandhi to the nation.
Jaiswal accused him of using derogatory speech against marginalized communities and claimed that he will have to face the anger of the OBCs wherever he goes.
The BJP also released a poster and pamphlet for its upcoming OBC campaign, which is set to start on April 6. Party president JP Nadda will launch the campaign from Haryana's Manesar. BJP MP K Laxman, OBC Morcha head of the party, stated that the campaign will reach 1 crore villages from April 6 until April 14, which is BR Ambedkar's Jayanti. The party will also celebrate Jyotiba Phule's anniversary on April 11.
Union Minister Smriti Irani also criticized Rahul Gandhi, stating that he "pretends today not to be a coward" and accused the Gandhi family of insulting people from Dalit or backward communities. In 2019, Rahul Gandhi apologized in the Supreme Court for his "Chowkidar Chor hai" remark against Prime Minister Modi.
Opposition parties recently marched from Parliament to Vijay Chowk in protest against the Center over the Adani issue and Rahul Gandhi's disqualification.