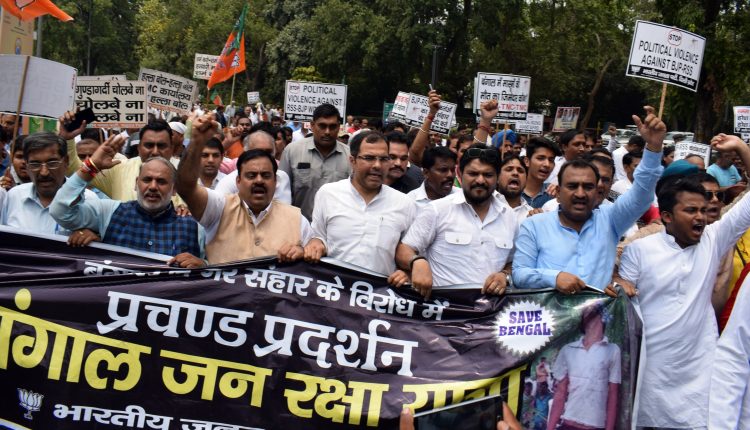 BJP Protests Against TMC: Democracy in West Bengal is in heavy danger says Babul Supriyo
Prerit Chauhan (Photo/Video) By Lokesh Goswami Ten News Delhi :
New Delhi: The Bharatiya Janata Party  has been accusing the ruling Trinamool Congress in West Bengal behind the killings of party workers in the state.
On Wednesday, BJP workers staged demonstration at the All India Trinamool Congress Party office in Delhi protesting against the violence against BJP workers in West Bengal.
The protest was done in the leadership of Union minister and Asansol MP Babul Supriyo and BJP legislator Manjinder Singh Sirsa. The BJP workers reached near the Trinamool Congress office in large numbers and staged a strong demonstration.
Speaking to Ten News, Union Minister Babul Supriyo said, "The  TMC government and Mamta Banerjee is creating a environment of terror in West Bengal and  they are using police for their political ambition. The CM who fake promised about the development is doing politics on 'Ma, Mati, Manush'."
"Democracy in West Bengal is in heavy danger. Opposition party members are being attacked and killed every other day. Ruling party's members and followers who proudly chant 'Ma, Mati, Manush', have left no stones unturned to instill fear in the minds of people." added Supriyo.