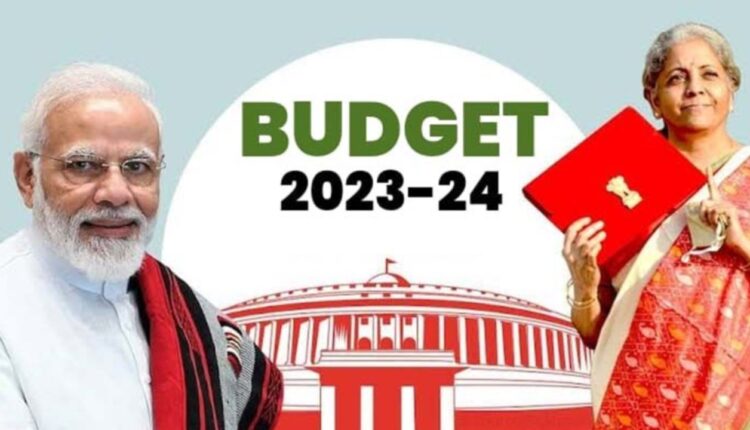 Finance Minister Nirmala Sitharaman on Wednesday will present her fifth straight budget. This will also be the full budget of Modi 2.0 govt before the next parliamentary elections in 2024. She is expected to deliver Budget 2023 speech at 11 AM today.

Finance Minister Nirmala Sitharaman is expected to increase the budget by around 12.5% compared to the previous year, totaling approximately $544 billion for the fiscal year starting in April 2023.
---
14.19 IST: Govt allocates a sum of Rs 1.62 lakh crore for capital expenditure on acquiring new weapons, aircraft, warships, and other military hardware.
---
14.04 IST: Prime Minister Narendra Modi is soon to deliver a speech regarding the declarations made by Nirmala Sitharaman in the Union Budget 2023.
---
13.53 IST: The government announced on Wednesday that they are extending income tax benefits to startups incorporated until March 2024.
Finance Minister Nirmala Sitharaman also stated that the government proposes to increase the benefit of carrying forward losses for startups to 10 years.
In addition, sugar cooperatives are now allowed to claim payments made to sugarcane farmers prior to 2016–17 as expenditures, and any new cooperatives that begin manufacturing activity until March 2024 will be subject to a lower tax rate of 15 percent.
---
13.41 IST: The Finance Minister, Nirmala Sitharaman, has announced that over the next 3 years, 1 crore farmers will receive assistance to adopt natural farming.
Additionally, 10,000 bioinput resource centers will be established to support the initiative.
---
13.40 IST: The government will establish a National Financial Information Registry as a central hub for storing financial and ancillary data.
---
13.25 IST: FM Sitharaman announced a new income tax regime that offers more purchasing power to individuals and some relief to employed taxpayers
The income tax slabs under the new regime are:
a) Rs 0 to Rs 3 lakh – 0% tax
b) Rs 3 to 5 lakh – 5% tax
c) Rs 6 to 9 lakh – 10% tax
d) Rs 9 lakh to Rs 12 lakh – 15% tax
e) Rs 12 lakh to Rs 15 lakh – 20% tax
f) Above Rs 15 lakh above – 30% tax
---
13.22 IST: FM Nirmala Sitharaman announced plans to launch advanced common IT return forms and improve the complaint resolution system.
---
12.52 IST: The Finance Minister has announced that cigarettes will become more expensive in the near future.
---
12.50 IST: In order to unlock new opportunities, business models, and job prospects, 5G service-enabled app development labs will be established in engineering institutions. These labs will focus on apps such as smart classrooms, precision farming, intelligent transport systems, and healthcare.
---
12.40 IST: Nirmala Sitharaman announces PAN as a common identifier for specified government agencies' digital systems for businesses with a PAN requirement.
---
12.35 IST: The revised fiscal deficit stands at 6.4% of GDP.
---
12.30 IST: Under a pan-India national apprenticeship scheme, a Direct Benefit Transfer will be rolled out to provide support to 47 lakh youths over the course of three years.
---
11.54 IST: GST collection for January reaches its second-highest level at Rs 1.56 lakh crore, following April 2022's record of Rs 1.68 lakh crore.
---
11.52 IST: Last year's budget estimated Rs 27.50 lakh crore of revenue from tax collection (direct: Rs 14.20 lakh crore, indirect: Rs 13.30 lakh crore). This time the government's tax revenues are expected to overshoot the estimates by Rs 4 lakh crore due to strong income tax revenue and customs duty
---
11.40 IST: Government increases capital outlay to Rs. 10 lakh trillion, from 7.5 trillion last year, an increase of 33%
---
11.28 IST: The Indian government is expected to focus on primary healthcare in its upcoming budget, as the country's public healthcare spending remains inadequate at around 2% of GDP.
The lack of resources is further highlighted by the fact that there are only 0.6 doctors and 0.9 hospital beds per 1,000 people. Despite India being a popular destination for medical tourism, the sector needs more policy support to develop into an organized sector.
The budget is also expected to provide clarity on the roles of the central and state governments in product registration and approval as well as simplify processes.
Additionally, the high cost of financing is a major roadblock for the healthcare industry.
---
9.18 IST: Finance Minister Nirmala Sitharaman reaches Rashtrapati Bhavan; Budget speech at 11 AM