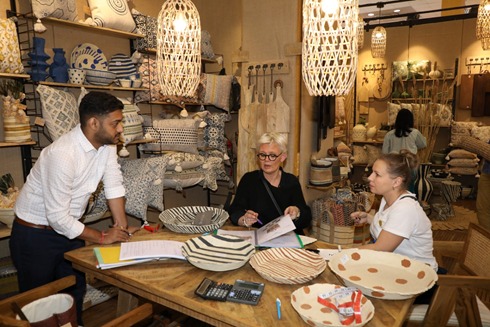 Buyers appreciate facilities, products quality & variety at IHGF Delhi Fair 2023
TEN NEWS NETWORK
Greater Noida – 16th March 2023: Commenting on the first two days of the 55th IHGF Delhi Fair Spring 2023, Rajkumar Malhotra, Chairman – EPCH shared "Buyers in good numbers visited the fair during the first two days and shared their appreciation at the variety available for sourcing. They have liked the presentations in the exhibition halls and call the fair 'more alive'. Many have shown interest in placing orders with their regular and new suppliers at the fair and some are looking at good volumes"

Marie Guillaume from France who is here to source wooden items and textiles is looking for manufacturers who can produce on a large scale. As Indian furniture is very well appreciated in France, he is viewing options in them at the fair. Jessica and Michelle from Australia are here to buy homewares. They remark, "Australians love Indian products as they give a homemade feel, especially in terms of workmanship and emotional quotient." Quest for kitchen & dining decor has led Evelyn from Argentina to the suppliers at IHGF Delhi Fair. "It is my first time here and I am surprised at the quality, quantity and variety of the products here. All the products here are excellent and I am spoilt for choice," she said.
IHGF Delhi Fair – Phase 2 FURNITURE Curtain Raiser – Delhi NCR is flagged on the world map as a major sourcing hub for home, lifestyle, fashion, textiles and furniture, owing to the IHGF Delhi Fair and its expansion over the decades. Export Promotion Council for Handicrafts (EPCH), are credited for that and growing buyer patronage has spurred them on, informed Rakesh Kumar, Director General – EPCH.
Kumar further informed that IHGF Delhi Fair which is being organized for the last 30 years with over 54 successful editions and the popularity of the fair is rising with every edition amongst Indian exhibitors and overseas buyers. Furniture is a segment that is seeing a growing scope as more and more markets overseas are looking to expand home & lifestyle products sourcing from India. On announcing the IHGF Delhi Fair Phase 2, he exemplified how almost always change is initially resisted, but the very people who resist are most often the biggest beneficiaries of the progressive transformation the change brings. He shared his vision of how the furniture trade in India has certain and visible potential for exponential progression and how a dedicated big trade platform would bolster growth. He added, furniture is a big category and the intention is to attract and draw the big furniture buyers, who can see a resplendent display, reflective of the sectors strengths and abilities.
He also shared that furniture is one of the priority sectors of Government wherein the Production Linked Incentive Scheme is also being mooted for the furniture sector. To much appreciation from furniture exporters present, he announced that for the new show, the Council would formulate innovative incentives for overseas buyers as well as exhibitions which would maximize their business.
The global market value of furniture is estimated to be US $ 580 billion in 2022, and is expected to increase every year to reach a forecasted value of approximately US $ 660 billion by 2027 with India's share in the global furniture trade in its nascent stage (less than 1%) and significant share of imports in the domestic furniture market. The time is opportune to launch a fair specifically meant for furniture segment.
Rajkumar Malhotra, Chairman – EPCH said that in order to cater to this segment of buyers and be able to offer larger display spaces to the exhibitors, EPCH is launching IHGF Delhi Fair-Phase 2 Furniture to be held at the India Expo Centre & Mart from 19th to 21st October 2023. 500+ leading manufacturers of furniture, woodcraft and other allied products would participate. With Delhi-NCR actually being the central sourcing gateway for furniture and accessories from all across India, including all major manufacturing hubs like, Saharanpur, Bhopal, Moradabad, Delhi, Jaipur, Jodhpur, Mumbai, Ahmedabad, Bareilly, Chennai, Mysore, Assam, Sikkim, J & K and many more.
R. K. Verma, Executive Director – EPCH informed that the highlight of the show will be new mediums, novel designs with inclusion of fresh entrepreneurial initiatives and makers from far-flung regions. The intent is to create a Centre Point to find furniture from all over India besides the major manufacturing hubs and clusters. The Display Categories would include Contemporary Furniture, Home Furniture, Outdoor Furniture, Kids Furniture, Modular Furniture, Office Furniture, Decorative Furniture, Hotel & Restaurant Furniture, School Furniture, Plastic Furniture, Cane & Bamboo Furniture, Work from Home Furniture, Furniture Accessories & Fittings. Variety in metals, alloys, stone. Blends and use of leather, glass, horn & bone, and much more awaits discerning buyers.
Some of the leading exporters from Jodhpur and Jaipur were also present and they appreciated the EPCH's initiative of organizing the furniture as a separate fair thus giving boost to the exports of furniture as a whole including wooden furniture.
As part of IHGF Delhi Fair's 'Knowledge Room', there were two important seminars were organized today; on Challenges and Emerging Trends in Cyber Security; and Innovations in Packaging for Handicrafts as part of IHGF Delhi Fair. Also scintillating Ramp Shows showcased daily sequences and brought visual merchandising alive. Today collections in fashion jewellery, beachwear, resort wear, fringed leather bags, tie & dye bags, scarves, needle crafts and footwear by India's leading exporters were showcased.
The EPCH being a nodal agency, promoting exports of handicrafts from the Country to various destinations of the world and projecting India's image abroad as a reliable supplier of high quality handicrafts goods & services. The Handicrafts exports during the year 2021-22 was Rs. 33253.00 Crores (US $ 4459.76 Million) and during April-February' 2022-23 is Rs. 28727.91 Crores and USD 3505.84 Million informed by Rakesh Kumar, Director General, EPCH.