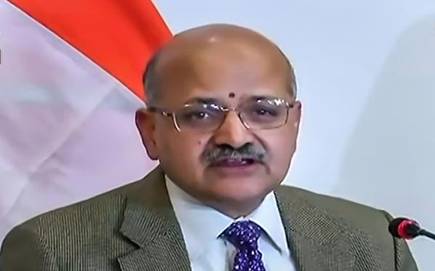 BVR Subhramanyam Appointed New CEO of Niti Aayog
Ten News Network
New Delhi (India), 21st February 2023: The Appointments Committee of the Cabinet has approved former Commerce Secretary BVR Subhramanyam as the new CEO of the Niti Aayog.

The Niti Ayog is the public policy think tank and the agency primarily responsible for the growth of the economic development. The Aayog is responsible for research and innovation amd also provides strategic vision that aids in boosting the country's economy.
Subhramanyam is set to hold the post for a term of two years. He is set to replace Parameswaran Iyer the former CEO who will be representing India as the Executive Director of the World Bank in the international domain.
Subhramanyam is from Andhra Pradesh and is an engineer by profession. He also holds a degree from the prestigious London Business School and is a graduate of 2015. He said was a close associate to CM Raman Singh who had personally requested his tranfer to Chhattisgarh for a crucial role during his tenure. Other than that Subhramanyam has served under the leadership of Manmohan Singh and the current Prime Misiter Narendra Modi.