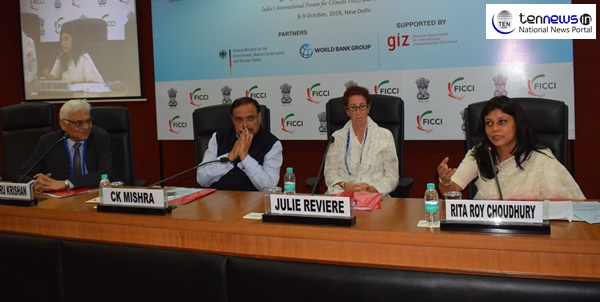 New Delhi: C K Mishra, Secretary, Ministry of Environment, Forest & Climate Change (MoEFCC), Government of India, today made clear that the global pre-2020 commitments on reductions in carbon emissions were sacrosanct and emphasised that climate finance and technology transfer were critical not just for India but for many other countries.
While inaugurating the 11th India Climate Policy and Business Conclave 2018, organised by FICCI and MoEFCC, in partnership with the German Federal Ministry for the Environment, Nature Conservation and Nuclear Safety (BMU) and the World Bank Group and supported by GIZ, Mishra said, "While the Government of India was working on a regulatory framework to facilitate climate change mitigation efforts of industry, We expect industry to make use of the new technologies to reduce carbon emissions."
He further said, "Industry that its request for allowing a couple of years more for implementing emission norms and targets would be granted only if it was accompanied by a concrete roadmap of action."
"The government was also working on a pilot project on developing carbon pricing instruments, particularly for the waste and MSME sectors where the possibility of carbon reduction is maximum," Added Mishra.
Dr Julie Reviere, Country Director, GIZ India,underscored the critical need to draw up action plans and roadmaps which were inclusive and participatory and ensure that the instruments to implement the plans were diverse and cost effective. She said that GIZ India remained committed to engaging with the MoEFFCC to help India meet its Nationally Determined Commitments (NDC) targets.
Kolluru Krishan, Chairman, FICCI Climate Change Committee and Chairman, CVC India Infrastructure Pvt. Ltd. said, "There was a need for regulation in compliance and policies and engagement of the private sector. FICCI, had adopted a holistic approach towards climate change mitigation in alignment with the Paris Agreement. The Chamber was also working on a position paper on movement towards sustainable plastics."