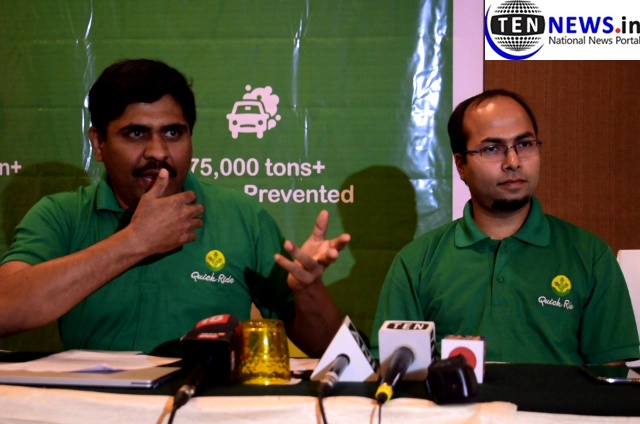 Car & Bike Pooling app 'Quick Ride' Waives Off Convenience Fee for Odd-Even period in Delhi
Vishal Malhotra (Photo-Video) Lokesh Goswami Tennews New Delhi :
New Delhi(31/10/2019): In the light of upcoming odd-even rule in Delhi NCR, car and bike-pooling application, Quick Ride today announced that it will charge 0% convenience fee for its service usage.
The brand has successful registration of over 2.8 million users on its platform across Bangalore, Mumbai, Delhi-NCR, Pune, Hyderabad, Chennai, Kochi, Trivandrum and Kolkata.
The Bengaluru based start-up entered the market in 2015 and has emerged as the largest carpooling network in the country. More than 4 lakh users out of the registered 2.8 million are from Delhi-NCR.
In a very short span, Delhi has become the fourth largest carpooling network across all India. This achievement underscores Quick Ride's commitment to reduce transit time, traffic congestion, and carbon footprint. With the growing customer base, Quick Ride is offering a reliable carpooling service which provides a comfortable, affordable, Eco-friendly and safe alternative.
The brand's commitment is in line with Government's agenda aiming at curbing pollution and decongesting urban roads.
In the wake of alarming pollution levels in Delhi, the government has decided to implement the Odd-Even traffic rule from November 04-15, 2019. The scheme aims to combat high level of air pollution in Delhi caused due to massive traffic, stubble burning in neighbouring states during winters etc. Currently, cities are grappling with limited space and private vehicles are adding to the vehicular congestion and registration of private vehicles touched an all-time high. Quick ride is aiming to build a community of conscientious citizens who are willing to share their daily commute and to contribute toward decongestion and reducing air pollution.
Speaking about the company's desire to lead the way in shared mobility, KNM Rao, Co-founder and CEO of Quick Ride said, "With winters round the corner, Delhi will be susceptible to high levels of air pollution again, it is vital that people contribute towards preventing the further degradation of the environment by doing their bit. If we all come together and share the empty seats in our cars, there will not only be less vehicles on the road but also reduced carbon footprint and improve travel speeds. Our goal is to reduce one million cars from the roads every day, and prevent at least 3000 tons of carbon emission every day by 2020. We will continue to expand across all the developing cities in India to enable a hassle free commute for our travellers."
"Shared mobility holds the key to decongest Indian roads and we are happy that the Government is considering it to curb pollution and traffic congestion issues across the key cities. Carpooling fare arr very high among all shared mobility solutions. In carpooling we share the most precious Road Space, Fuel, Asset and parking space as well" Rao added.
In Delhi-NCR Quick Ride has executed the specially designed "Go Green Carpool Awareness Campaign" to sensitize employees towards Carpooling, so far across 100+ companies including WIPRO, Cognizant, HCL, Cap Gemini, PayTM, Adobe, IBM, and Tech Parks. We see very good customer engagement and responsiveness from Employees.
Although many people tried carpooling in the past, probably this is the first time Quick Ride automates the end to end process of carpooling with elegant user interface.
Priyadarshi, Head – Delhi-NCR said, "When we started in Delhi-NCR a year back, people said carpooling won't work here in Delhi. But I strongly believed that it will be one of the top solution to reduce traffic and pollution in our city. And here we are today, making more and more people do Carpooling on daily basis. Instead of worrying about odd even scheme implementation, let's celebrate happy carpooling week from 4th November."