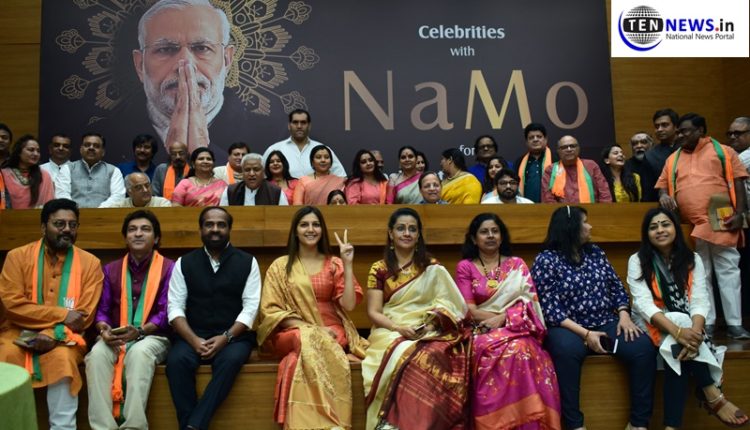 #CelebritiesWithNaMo: BJP holds meeting with celebrities supporting PM Modi in Lok Sabha Polls
New Delhi : Dozens of Bollywood Celebs today gathered at BJP's HQ in New Delhi. They all came to showcase their ultimate support to PM Modi for upcoming Lok Sabha Polls.
The list includes many stars like Boney Kapoor, Sapna Chaudhary, Manoj Joshi. Recent photos of the stars have been shared on social media. Let's say that this time Bollywood stars are appearing to support their favorite party in the Lok Sabha elections in 2019.
A day before the Lok Sabha election's fifth phase of voting, Prime Minister Narendra Modi will hold rallies in UP and Madhya Pradesh. The prime minister will be in Uttar Pradesh's Bhadohi and Sagar. Later in the day, PM Modi will be in Gwalior campaigning for BJP's candidate and current mayor of Gwalior Vivek Shejwalkar. Voting in all three of these constituencies will take place on May 12.
At the party, Haryanvi Dancer Sapna Chaudhary, film maker Boney Kapoor, actor Manoj Joshi and Wrestler The Great Khali were seen. To support the BJP, the people associated with the industry have been invited together for the Get-Together in Delhi.
Earlier, Bollywood stars had reached Delhi to meet Narendra Modi. This list included stars like Alia Bhatt and Ranveer Singh.
Sapna Chaudhary was also seen in the party. It was said in the past that her dreams were about joining BJP, in fact she was seen in Manoj Tiwari's election campaign, after which speculation started that she was joining the party. Well, she clarified that "I have not joined the BJP, I have come here because Manoj Tiwari is my best friend."
In Delhi, Chief Minister Arvind Kejriwal will hold a roadshow in the West Delhi constituency today, campaigning for Aam Aadmi Party candidate Balbir Singh Jakhar. Other candidates contesting from the seat are BJP's Pravesh Verma and Congress's Mahabal Mishra.
The AAP chief's roadshow comes a day after he was attacked during a roadshow in the Moti Nagar area, in the New Delhi constituency. Delhi will also vote in the sixth phase on May 12.
Congress leader and Punjab Minister Navjot Singh Sidhu will be in Delhi today to campaign for Ajay Maken, the Congress candidate from the New Delhi constituency. Maken will be contesting against sitting MP Meenakshi Lekhi of the BJP, and AAP's Brijesh Goyal.