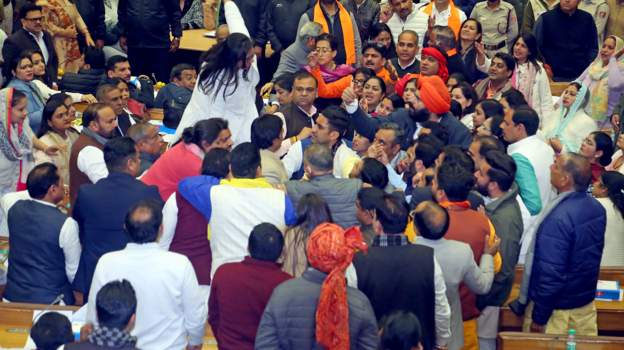 Chaotic scenes witnessed at Delhi Civic Centre during Standing Committee elections
Ten News Network
Delhi (India), February 23, 2023: A chaotic scene unfolded at the Delhi Civic Center during the election for the six members of the Standing Committee, which is considered to be the most powerful body in the unified Municipal Corporation of Delhi. The drama started on Wednesday evening and continued into the early hours of Thursday.

The election was marred by violence, with visuals from the scene showing councillors screaming, jostling, and punching each other. Ballot boxes were thrown into the well, and proceedings were disrupted at least eight times due to the chaos.
The new Mayor of Delhi, Shelly Oberoi, alleged that she was attacked by BJP councillors during the election, but the BJP claimed that they were only trying to discuss the matter with the Mayor.
The trouble reportedly began as an altercation between the Aam Aadmi Party (AAP) and the BJP over allegations that some members were carrying cell phones during the voting. The BJP members claimed that the voting should be stopped and a fresh mandate taken.
Still, with the lateness of the hour and the insistence of Oberoi that the election for the Standing Committee had to be finished that day, tempers flared.
Carrying of pens and cellphones was not permitted during the election for the posts of mayor and deputy mayor, and the BJP alleged that it was allowed in the case of the Standing Committee poll to breach secrecy and stop AAP members from voting as they, please.
The election for the Standing Committee started late that evening, hours after the election for the Mayor and the Deputy Mayor. Both posts went to the AAP, which has 150 votes in the 274-member house.
In the Standing Committee, the AAP is likely to win three of the six seats, and the BJP two. The fight is over the sixth seat, which could help the BJP call the shots in the civic body they controlled for the last 15 years.
The two-month tussle over the nomination of the aldermen, councillors named by the Lieutenant Governor, and whether they can vote in the Mayor elections were geared towards this day, sources have indicated.
The election was postponed four times to accommodate the Supreme Court hearing on the issue. The court had ruled out voting for aldermen, saying the constitutional provision is "very clear."
The incident has sparked outrage, with Delhi Chief Minister Arvind Kejriwal and AAP's Atishi condemning the violence and promising to complain to the police.
The BJP spokesperson, Harish Khurana, demanded that the 50 votes already cast be cancelled and accused the AAP of reducing democracy to a joke. The situation remains tense as the investigation into the incident continues.