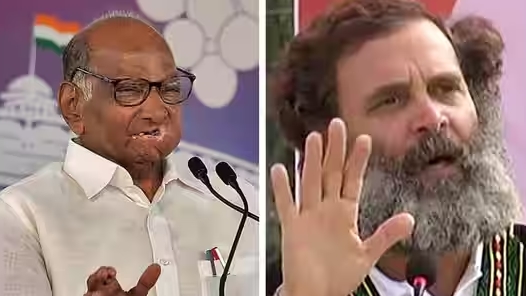 Sharad Pawar endorses Rahul Gandhi's stance on China issue
Ten News Network

Delhi (India), February 22, 2023: Nationalist Congress Party (NCP) chief Sharad Pawar has endorsed Congress leader Rahul Gandhi's stance on the China issue, saying that the country has developed good infrastructure on its side that cannot be ignored.
Speaking at an event in Pune, Pawar also praised Gandhi's Bharat Jodo Yatra, a tour of the country aimed at collectively addressing the country's shortcomings.
The endorsement is significant as it comes amid a political crisis involving Pawar's party's Maharashtra partner, the Shiv Sena, which has been denied the right to the party name and symbol. At the national level, Congress President Mallikarjun Kharge has called for a Congress-led opposition in the 2024 Lok Sabha election.
"Congress is a big party, let them lead. We accept Congress' leadership," Pawar said at a press conference, adding that the opposition, whether led by Gandhi or anyone else, has repeatedly raised the issue of China's infrastructure development on its side of the border.
Pawar's comments were in response to Foreign Minister S Jaishankar's criticism of Rahul Gandhi's statements on the Line of Actual Control (LAC). Jaishankar had asked, "Who sent the Army to the LAC? Rahul Gandhi did not send them. Narendra Modi sent them. We have today the largest peacetime deployment in our history on the China border."
Pawar's endorsement of Gandhi's stance on China could signal the NCP's support for any Congress-led opposition in the 2024 Lok Sabha election.