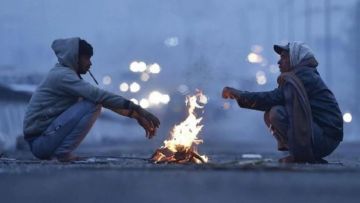 Cold wave intensifies pollution in Delhi, air quality worsens to very poor
Ten News Network
Delhi (India),17th Jan 2023: Delhi is in the middle of a prolonged cold wave, with temperatures expected to remain low for the next two days.
The minimum temperature recorded at Safdarjung Observatory, which is representative of Delhi's weather, was 2.4°C on Tuesday morning, with temperatures at other locations likely to have dipped even lower.
The Central Pollution Control Board (CPCB) has reported an hourly Air Quality Index (AQI) of 303 at 9 a.m. on Tuesday, which is in the "very poor" category. The average 24-hour AQI on Monday was 270, which is in the "poor" category.
The cold wave gripping the northern plains was expected to continue for the next two days. The minimum temperature oscillated between 1-2 °C at Safdarjung, while it may have dipped even lower at other locations.
This was Safdarjung's sixth "cold wave" day in January this year, making it the longest such spell in January since 2013.
Delhiites are advised to take necessary precautions and stay indoors as much as possible. An AQI between zero and 50 is considered good, 51 and 100 satisfactory, 101 and 200 moderate, 201 and 300 poor, 301 and 400 very poor, and 401 and 500 severe.