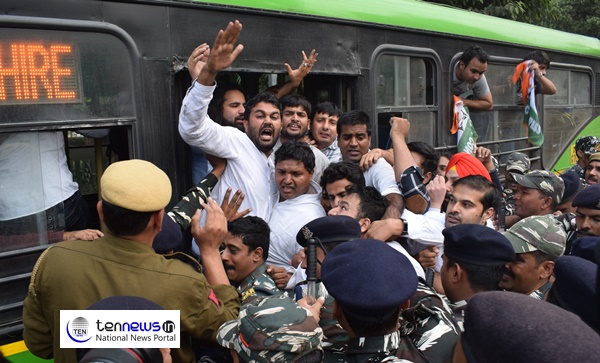 New Delhi: Today, outside the residence of Delhi BJP President Manoj Tiwari, Congress supporters protested against the recent remark of actor, singer and BJP MP Manoj Tiwari.
Tiwari is back in the headlines for his controversial remark against Congress president Rahul Gandhi and UPA chairperson Sonia Gandhi.
Mocking Rahul Gandhi and his mother during a rally, Manoj Tiwari said that the mothers who perform Chhath Puja give birth to intelligent children but still Sonia Gandhi ignore Chhath celebrations. The matter was highlighted after a video of Manoj Tiwari went viral on social media. In the viral video, the BJP MP Tiwari said that there are problems because Sonia Gandhi never performed Chhath Puja.
Today Amrish Pandey, a spokesperson from Youth Congress speaking to Ten News said,
"Manoj Tiwari said something that is something totally intolerable. He as a politician should know his limits. We today are protesting against his words and asks him whether this was something he asked to Modi or Arun Jaitley as well?
Our only aim is to make him bow in front of Congress and apologize for what he did."
Congress supporters burnt an effigy of Tiwari outside his residence and pledged to continue this protest until BJP MP Manoj Tiwari apologizes for his statement.