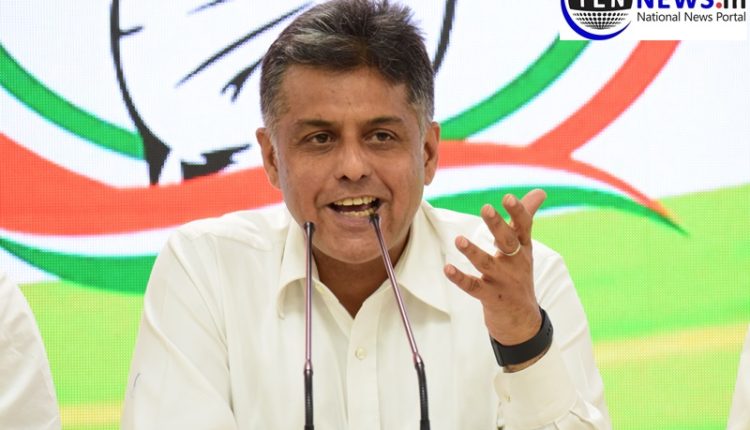 Congress Accuses BJP President Amit Shah for filing false documents in nominations from Gandhinagar
Talib Khan (Photo/Video) By Lokesh Goswami Ten News
New Delhi, (1/4/2019): Congress party today accused BJP President Amit Shah of submitting false documents in Nominations for the candidature of Gandhinagar Lok Sabha seat in Gujarat.
These allegations comes right after the BJP accused congress of lying about the loan waver scheme.
Congress Spokesperson, Manish Tewari while addressing a press conference at AICC said, "The BJP President Amit Shah has filed his nomination papers for Gandhinagar Lok Sabha seat. With the nomination papers all the candidates have to file a declaration of your assets and liabilities. The affidavit which Amit Shah has filed demonstrated that in 2012 the total value of his movable and immovable assets is 11.79 crores which has gone up to 38.81 crores in 2019. It is a net increase of 300%. In the same affidavit he has declared a plot of land in Gandhinagar which is of 30016.19 sq mts with a market value of Rs 25 lakh".
"According to the Jantri system of Gujarat Government which calculated the market value of commercial and residential plots, the market value of Amit Shah's plot is Rs 66 lakhs, which he has declared as 25 Lakhs. The BJP President has for some reasons cut more than half of his plot's value. He has lied to the people and to the Election Commission of India. And according to the Representation of Peoples Act section 125A the candidate filing false documents is liable of getting 6 months jail or fine or both", he added.
Further he said, that "we want Election Commission to give cognizance in this matter and direct the Returning Officer of Gandhinagar to take appropriate action under the law".
The Congress urged the Election Commission to take action against the false documents submitted by Amit Shah and act accordingly. We want that an immediate action should be taken and no ignorance should be shown because of fact that he is BJP President Amit Shah.