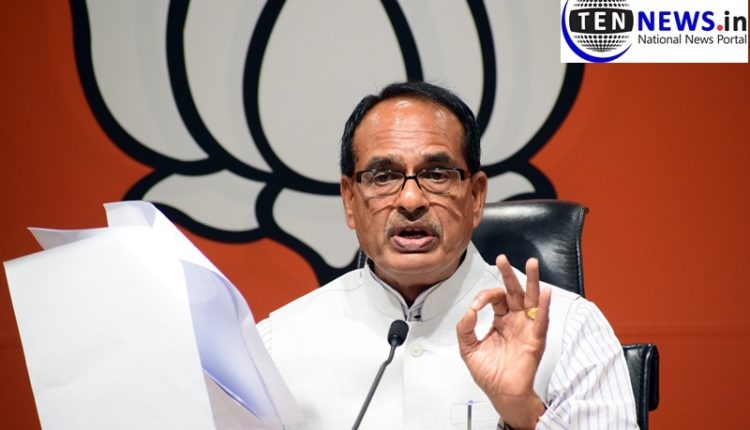 Congress duping farmers in the name of Loan waver scheme, Farmers still in distress : Shivraj Singh Chouhan
Talib Khan (Photo/Video) By Lokesh Goswami Ten News
New Delhi, (1/4/2019): Today, Shivraj Singh Chouhan, former Chief Minister of Madhya Pradesh Targeted Congress over Loan waver scheme at a press conference in New Delhi.
Addressing the press conference he slammed Rahul Gandhi and the Congress party by saying that "Rahul Gandhi and his party is a statue of lies". His statement comes after the farmer's loan waver scheme of Congress during the Assembly polls of 2018 in which the Congress defeated BJP in 3 major states of the country.
The former CM of MP further said, "The promises made by the Congress party are nothing but only lies. Rahul Gandhi is a habitual liar, and its of no shock because he carries the legacy of Congress party of lying to the innocent people of the country. I have proofs of their lies. The Congress party from the budget of 48000 crore rs allotted 5000 crore rs for the loan waver scheme but the actual figures shows that only 1300 crores have been transferred in the bank accounts in the name of loan waver scheme".
He showed a clip of Rahul Gandhi from one of his rallys in MP during the Assembly elections campaign in 2018, in which he is seen saying, "within 10 days after coming to power, Congress party's CM will wave loans of every farmer in the state, and if he hesitates in waving the loans then another CM of Congress Party will do the job, but it is sure that we will wave loans of the farmer".
Talking about the the video, Shivraj Chouhan said, "In this video we can clearly see the promise but now after 104 days, loans wavers are still pending and no loans have been waved off and according to Rahul Gandhi 10 CM's should've been changed till now. But there is no action Congress is taking towards it. There are reports showing that the loans that has been waved off are of just 1000 rs or 700 rs or 500 rs".
"We also have messages from the banks to farmers in which they are asking them to pay their loans, also in other states the failure of loan waver scheme can be seen clearly", he added.