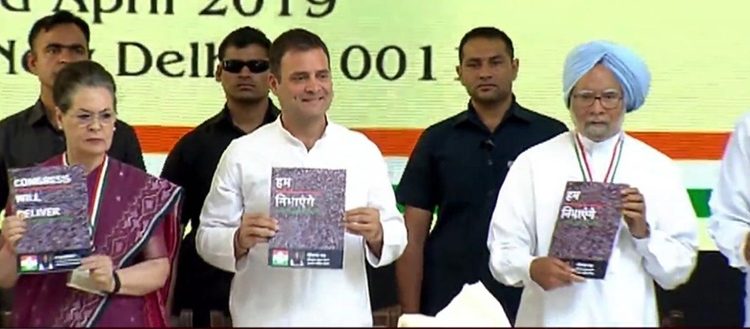 Congress Releases Manifesto for Lok Sabha Elections 2019
Prerit Chauhan (Photo/Video) By Lokesh Goswami Ten News Delhi :
New Delhi: The Indian National Congress party today released its manifesto for the 2019 Lok Sabha elections which is to start from April 11. The manifesto was released in the presence of Congress president Rahul Gandhi, Sonia Gandhi and former prime minister Manmohan Singh. Priyanka Gandhi and other big leaders were also there.

Former finance minister P Chidambaram
Speaking at the Manifesto Launch said,
"Manifesto addresses concerns of minorities, women, Dalits, farmers, industries, education, healthcare, workers among others. BJP trying to take the narrative back to polarisation, hyper-nationalism and divisiveness Manifesto will set the narrative for the polls.The BJP may be the ruling party today but the party is trying to take the narrative to five years back to divisiveness and hyper nationalism Our manifesto is focussed on real issues of jobs."
"All sections of society have been taken into consideration. It is the task of the Congress workers to carry its message," said Former PM Dr Manmohan Singh ahead of the launch of the Congress
party's Elections 2019 manifesto.
"This Manifesto Prepared after consultations with large number of people from various walks of life. Manifesto, a vision of the Congress party to move at a faster speed for inclusive growth.The purpose of the manifesto is to spell out the vision of the Congress party. We want India to be a prosperous and progressive country and our manifesto will reflect it," added Former PM.
Congress President Rahul Gandhi said,
"The proposed Nyay scheme would help the economy which got "jammed" due to BJP's demonetisation move. We gave the slogan: Garibi pe waar, 72000. Our government will eliminate poverty through the Nyay scheme by 2030."
He further said, "Our government will fill the 22 lakh vacancies by March 2020. Entrepreneurs will not have to seek any permission for first three years for their businessess. There should be a separate budget for farmers like the one which used to be done for the Railways."
The Congress has also promised to allocate six per cent of budget for education.Gandhi also said that on coming to power, the public healthcare will be improved so that the poor too will have access to high quality healthcare services.