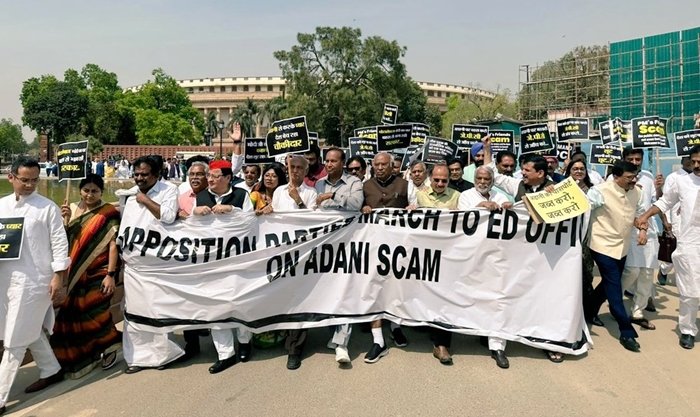 Delhi police blocks opposition March Demanding proble into Adani issue
Ten News Network
New Delhi (India), March 15, 2023: The Delhi Police have blocked a march led by 18 opposition parties, who demanded a probe into the Adani row, as they attempted to march to the Enforcement Directorate's (ED) office in Delhi.

The opposition leaders called for an investigation into the Adani-Hindenburg issue and the alleged misuse of central probe agencies by the ruling BJP for political gains. However, ahead of the march, the Delhi Police set up barricades and deployed a large contingent to prevent the protesters from proceeding to the ED office. The opposition leaders had to call off the march and return to Parliament after being blocked by the police.
Mamata Banerjee's Trinamool Congress and Sharad Pawar's Nationalist Congress Party did not join the march. The allegations against the Adani Group, made by US short-seller Hindenburg Research, include stock manipulation and accounting fraud. The Adani Group has denied these allegations and called them "malicious," "baseless," and a "calculated attack on India."
The Supreme Court has formed a six-member committee of experts to investigate the issues arising out of the stock crash. The court has also directed the market regulator, the Securities and Exchange Board of India (SEBI), to investigate the matter. The Adani Group has welcomed the Supreme Court order and stated that "the truth will prevail."
However, a section of the opposition parties, including the Congress, have insisted on a joint parliamentary committee (JPC) probe. The demand for the JPC probe, along with the government's offensive on Rahul Gandhi's remarks in London, has resulted in an impasse in Parliament, with frequent disruptions and repeated adjournments during the second leg of the budget session.