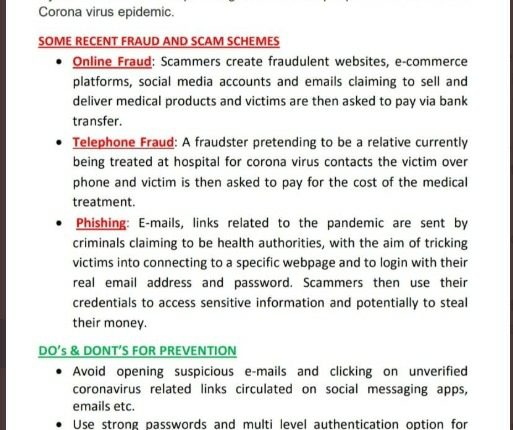 Delhi Police issues advisory to warn people against online fraud amid coronavirus
The Delhi Police has issued an advisory on Saturday regarding cybercrimes, warning people against fraud and scam schemes and asking them not to indulge in such behaviour.
This comes as several coronavirus related scams, phishing websites and spam messages increased after the outbreak, especially regarding medical products.
The authorities also said that such cases will grow panic about the virus amongst the people.
The Delhi police issued an official circular mentioning recent fraud and scam schemes and do's and don'ts for prevention of the crimes.
Talking about the scam schemes, the Delhi Police wrote about three such schemes. The first was 'online fraud', in which scammers create fraudulent websites, e-commerce, social media accounts and emails claiming to sell and deliver medical products and victims are then asked to pay via bank transfer.
The second mentioned fraud was 'telephone fraud', in which a fraudster pretending to be a relative currently being treated at a hospital for coronavirus contacts the victim over the phone and then the victim is asked to pay for the cost of medical treatment.
The third listed fraud was 'phishing', in which emails, links related to the pandemic are sent by criminals claiming to be health authorities, with the aim of tricking victims into connecting to a specific webpage and to login with their real email address and password.
Scammers then use their credentials to access sensitive information and potentially to steal their money.
Further adding about the do's and don'ts for prevention, the Delhi Police said, "Avoid opening suspicious emails and clicking on unverified coronavirus related links circulated on social messaging apps, emails etc."
Earlier, the Cyber Crime Cell, Delhi shared a list of coronavirus-related domains listed as potentially dangerous. The cell requested people not to open such domains. Such domains as per the cybercrime cell are coronavirusstatus[.]space, coronavirus-map[.]com, blogcoronacl.canalcero[.]digital, coronavirus[.]zone, coronavirus-realtime[.]com, coronavirus[.]app, bgvfr.coronavirusaware[.]Xyz, coronavirusaware[.]Xyz, corona-virus[.]healthcare, survivecoronavirus[.]org, vaccine-coronavirus[.]com, coronavirus[.]cc, bestcoronavirusprotect[.]tk and coronavirusupdate[.]tk.