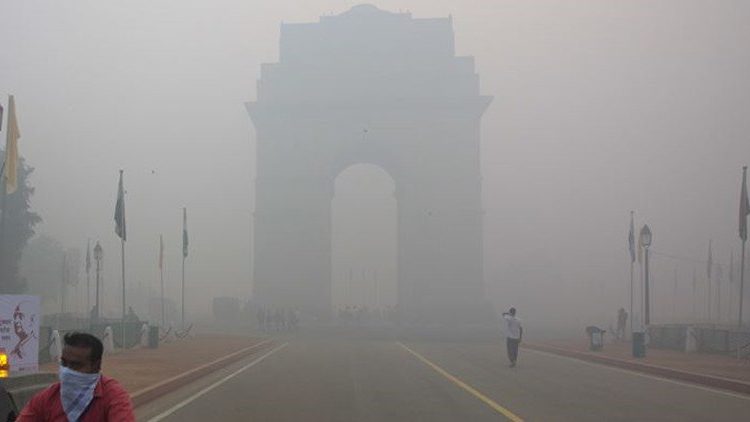 Delhi's pollution level on the high after Dussehra, to get worse
Rohan Sachdeva
Delhi's air quality nosedived to 'very poor' category with several areas heading towards 'severe' pollution levels on Saturday as haze engulfed the city while stubble burning in Punjab and Haryana continued to contaminate the atmosphere, authorities said.
A day after Dussehra the overall Air Quality Index (AQI) of Delhi was recorded at 337, which falls in the 'very poor' category and is the highest of this season, creating hazy conditions, according to data from the Central Pollution Control Board (CPCB).
About 31 areas in Delhi recorded 'very poor' air quality while two areas showed 'severe' air quality levels, it said. CRRU Mathura Road and Dwarka Sector 8 witnessed 'severe' level of pollution at 414 and 402, respectively, the data said.
A senior official of the Central Pollution Control Board (CPCB) said air quality may worsen over the next couple of days due to the combined effects of burning of effigies on Dussehra, stubble burning and low wind speed in Delhi.
An AQI between 0 and 50 is considered "good", 51 and 100 "satisfactory", 101 and 200 "moderate", 201 and 300 "poor", 301 and 400 "very poor", and 401 and 500 "severe". An official warned that the PM2.5 (presence of particles in the air with a diameter of less than 2.5 micrometres) was reaching dangerous levels.
Air pollution across north India has started to peak like Delhi pollution, either nearing or breaching 'very poor' levels in benchmark cities such as Delhi, Kanpur and Lucknow, according to experts from multiple government and private organisations that monitor the region's annual meteorological and public health nightmare in the winter months.