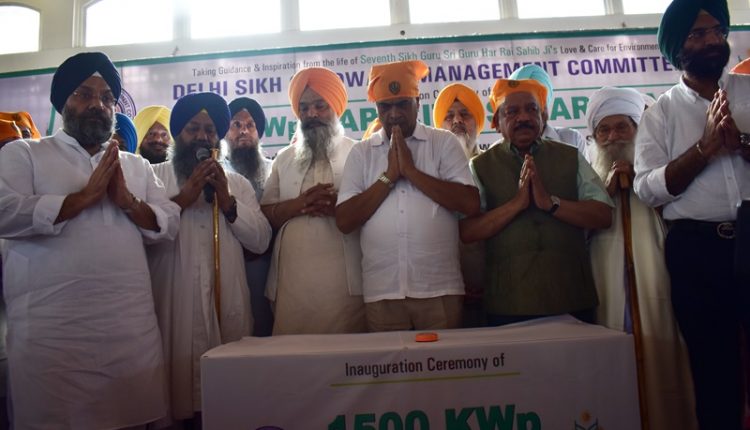 Delhi's Historical Gurudwara's Get Solar Powered, Union Ministers Inaugurate DSGMC's landmark project
Prerit Chauhan (Photo/Video) By Lokesh Goswami Ten News Delhi :
New Delhi: Promoting the use of energy-efficient measures and encouraging rooftop solar power generation, the landmark project of Delhi Sikh Gurdwara Management committee (DSGMC) for solarizing rooftops of the historical Gurdwaras like Gurdwara Bangla Sahib and Gurdwara Rakab Ganj Sahib and educational institutes associated with DSGMC was inaugurated today in New Delhi amongst the august gathering of Dr. Harsh Vardhan, Minister for Environment, Forests and Climate Change, Science & Technology and Earth Sciences,  R K Singh, Minister of State (IC) Power and New & Renewable Energy; Hardeep Singh Puri, Union Minister of State in the Ministry of Housing and Urban Affairs and senior authorities. 
The project was executed under the subsidy program of MNRE in association with leading solar power developer Sukhbir Agro Energy Limited (SAEL).
This  project of 1.5 MWp would contribute hugely in meeting the power consumption of the Gurdwaras and institutes. Plant is expected to generate 20.00,000 units of green energy annually, resulting in annual savings of 1 crore rupees. 
On the occasion, Dr. Harsh Vardhan, Union Minister at Ministry of Science & Technology, Ministry of Environment, Forest and Climate Change and Ministry of Earth Sciences, said, "After China and the US, India is the third largest emitter of carbon dioxide in the world. In order to reduce this growing carbon footprint of the country, it is essential that we make use of solar energy as it is one of the most promising renewable sources for generating energy."
Power Minister R.K. Singh appreciated effort made by Delhi Sikh gurdwara Management Committee for this large project of 1.5 MWp. He mentioned that this initiave of DSGMC will create a great positive wave for adoption of renewable energy.  
Hardeep Singh Puri, Union Minister of State in the Ministry of Housing and Urban Affairs and senior authorities, said, "India being a tropical country is very uniquely positioned to make solar energy the prime factor in its energy strategy. Realising this, DSGMC in association with SAEL has taken the right step in the right direction by launching this 1.5 MWp Solar project in Delhi which is one of the most polluted cities in the country."
Manjit Singh Gk, President DSGMC said, "This project is tribute to the teachings of our seventh guru, Shri Guru Har Rai Sahib Ji whose message for preserving the environment has always appealed to work for environment.  We are glad that we are able to do this project and contribute our bit for the environment. This initiative will be augmented for the next projects for making our Gurdwaras and institutes more eco-friendly."
Jasbir Singh Awla, Managing Director of the executing company Sukhbir Agro Energy Ltd, said "In the year 2014, Delhi was named the most polluted city in the world and still the situation has not changed much. Further, as per the World Air Quality Index, Delhi's air quality stands at hazardous levels."