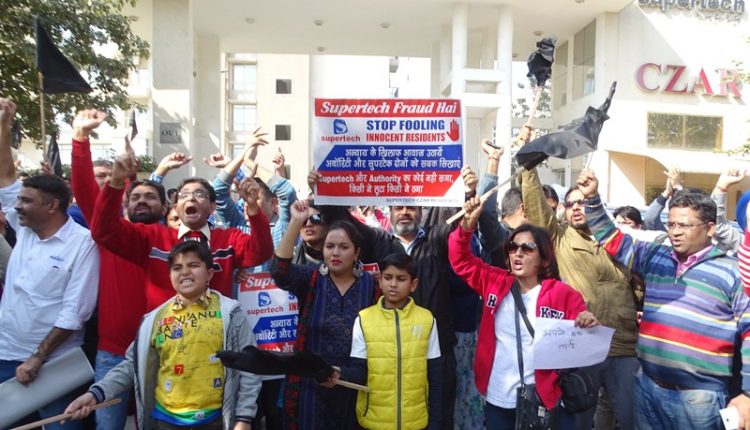 After being denied right to protest, Supertech Czar residents make symbolic gesture, raise staggering questions against Authority-Builder!
ASHISH KEDIA / ROHIT SHARMA
(04/02/18) GREATER NOIDA :–
Today thousands of flat owners from Supertech Czar society gathered at project premises to protest peacefully against the sealing of around 1100 units in the project.
The Apartment Owners Association President Pawan Mishra said, "Around 1100 units of this project have been sealed on the context of them being illegal. The project started in 2007 and possession started in 2010. Supertech builder has completed all the towers and sold them out to unsuspecting buyers. Authority didn't raise any objection when these buildings were being constructed, marketed proficiently and eventually were sold. However after thousands of buyers invested and purchased flats here, they have been now sealed on pretext of being illegal. We want to ask how could a twenty story building be completely constructed if it was all illegal ? Why no one checked when there was construction and sales going on? Why builder was allowed to have a free way and now when unsuspecting buyers have paid money and purchased them we are being tormented with these legal proceedings".
Large number of buyers who have gathered at the project site fiercely questioned about to how the Greater Noida authority completely overlooked the construction and sale of these thousands of flats and is now being very proactive to torment buyers.
When this correspondent visited Supertech Czar project site, there were hundreds of men and women demanding justice from the sealing.
Large towers, which now remain sealed, raised staggering question as to how and why was such massive construction allowed on the first place if it all was illegal?
The protest that didn't kick off
On Sunday afternoon the investors of this project have called for a massive car rally to protest against the injustice being meted out to them. They have obtained all the necessary permission for the same and all necessary measures were put on place. AOA also did a pre-protest press briefing on Saturday and announced the scale of the protest. However as soon as the news of many hundred vehicles participating in protest reached to the administration, the permission was cancelled in a ziffy.
The aggrieved buyers, most of whom belong to service class, were shocked with these last minute changes. Overnight strategy meetings ended with an unanimous decision of curtailing the protest route, giving a miss to high traffic area and just attempting a sort of symbolic protest. However right before the scheduled time of protest, police force was deployed at the gate of the society.
The residents were retold about the denial of permission to hold the protest and were warned to stay put inside the society or face consequences. As a result, the rally didn't even move past the society gates. Aggrieved residents shouted slogans against Supertech and Greater Noida authority and also raised a blanket of suspicion over this last minute denial of permission for a peaceful protest.
Weeks after India celebrated its 68th Republic Day and sermons were repeated to hold constitutional rights of all it's citizens, some few hundreds of Greater Noida residents are looking towards a gloomy future and remain uncertain about what would happen of their hard earned money that remain invested in Supertech Czar. For them sitting quietly and waiting patiently for a solution hasn't helped and attempt to protest peacefully didn't go through as well. The solution still remains out of horizon!