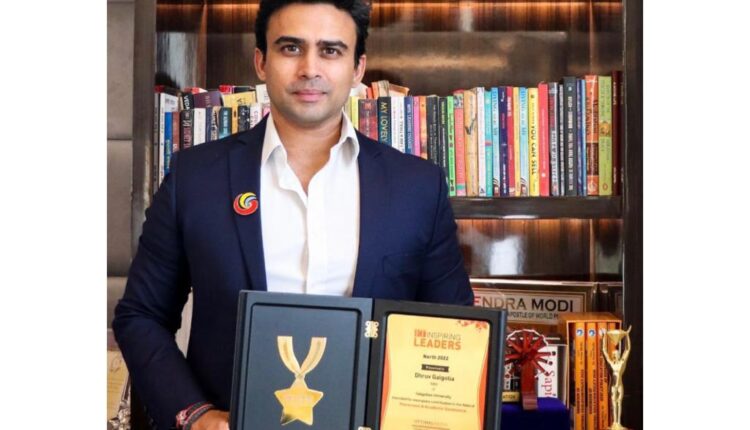 Dhruv Galgotia, CEO of Galgotias University awarded Economic Times Inspiring Leaders Award 2022
TEN NEWS NETWORK

New Delhi, 29th Nov: Dhruv Galgotia, the CEO of Galgotias University on Monday was honoured and recognized at the Economic Times Inspiring Leaders Award 2022 organized in Delhi.
The event was organized to celebrate and honour professional and entrepreneurial excellence across diverse categories. Guests at the event included Dr. Chander Ketu, Director Ayush (NDMC) and actress Mrunal Thakur.
During the event, Dhruv Galgotia was honoured with the award due to the institution's exemplary contribution in the field of placements and academic excellence.
In his acceptance speech, Dhruv Galgotia, Chief Executive Officer of the University, said that the University is dedicated towards moulding its students into global professionals by inculcating practical skills in them.
Galgotias University is known for its state-of-the-art campus, strategic education, learning process and most advanced facilities. The institution has been laser-focused on fostering an environment through which corporate industrial personality can be created in the students.
Thanking The Economic Times for the honor, Dhruv said, "I am honored to receive the ET Inspiring Leaders Award 2022 for outstanding contribution in the field of education. This award will motivate me to do better."
Other top leaders who were honoured during the event included A.P. Shreethar, founder and CEO at Click Art Museum, Ashish Bhutani, CEO of Bhutani Infra, and Rina Singh, Principal of Khaitan School in Noida, among others.