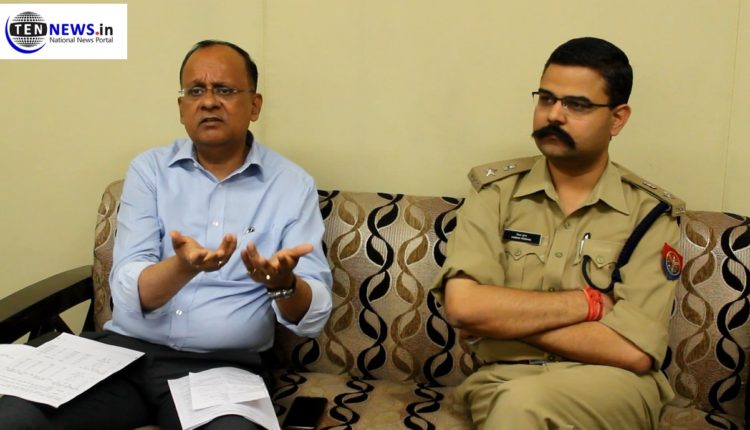 District Administration gears up for Lok Sabha elections, DM-SSP share poll measures
Saurabh Kumar / Photo & Video By Baidyanath Halder
Greater Noida (06/04/2019) : Gautam Budh Nagar district administration is gearing up for the polling in Gautam Budh Nagar Lok Sabha Constituency in the first phase of election which will be held on April 11. This time constituency will have total of 953 Poling station and 2297 polling booths where 23 lakh voters will cast their vote to choose their next MP.
Briefing the media about ongoing preparations and other details of April 11 Loksabha elections DM B N Singh said "Deployment of EVM and Voter verifiable paper audit trail (VVPAT) as per instructions of election commission and allocating polling party to polling stations will be ensured through random selection process as per the guideline of EC. Sealing of EVM is going on that will be completed by today"
It will have a three layer security arrangement, monitored by 33 CCTV cameras 24 x 7. Adding a new thing this time district administration is planning to give IP address of CCTV camera installed at strong room to the candidates so that they can monitor it on their mobile phones well.
Different layers of security arrangements will be ensured to conduct peaceful polling. 120 sector magistrate are already been deployed who are visiting their assigned areas in a GPS enabled vehicle which is continuously being monitored by the district magistrate.
There will be 264 Micro Observers for polling stations who will be officials of PSUs of Government of India. Paramilitary, PAC, police personnel's all this will deployed as per the requirement.
145 polling stations are declared sensitive where web casting will be done. Apart from this 50 polling station which have large number of disabled voters will have facility of wheel chair. There will be three model and three all women polling station in the constituency.
While talking about law and order situation SSP Vaibhav Krishna said that "no one will be allowed to use mobile phones in 100 meter range of polling station and any type of gathering will also be restricted in 200 meter of area."
"In our drive ahead of elections we have siezed 200 illegal arms, 2.5 crore cash, 16 thousand illegal liquor. 91 % of licensed arms is been submitted to us. A total of 40 inter-state and inter- district barrier will be placed to monitor the public movement", SSP said.