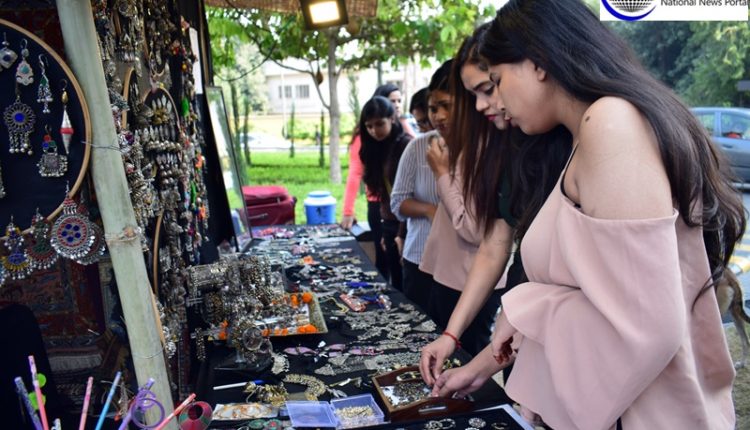 DLF Mall of India hosts Colours of India' exhibition showcasing traditional handicrafts
Saurabh Kumar (Photo-Video) Lokesh Goswami Tennews New Delhi :
Noida: Setting the celebratory mood ahead of Diwali, DLF Mall of India has curated a 'Colours of India' exhibition showcasing the vibrant spirit of India. The 10-day long exhibition in the month of October will showcase beautiful handicrafts,

handloom and organic products by award winning artisans such as B Loganathan for Thanjavur painting, Dharmain and many more.
Ten News interacted with B Loganathan famous artisan of Thanjavur painting who recently got the opportunity to interact with PM Modi and offered his painting to PM which he later gifted the painting to China president during his recent visit to India. For his work he received a lot of apperception from President Xi.
Detailing about the painting he said, 'these are hand made painting coated with Gold and in present times I am also trying something different from traditional.'
The event is being hosted in association with One World Foundation. A section by Anatarkanti, Prisoner Reformation Rehabilitation programme will display the products made by the prisoners of Tihar jail in the exhibition.
Another artist Nitin at Madhubani painting stall told that 'these painting are made up from natural clours like from flowers and natural ingredients. In recent times we are getting support form government and different NGO's and foundations like One World Foundation. We are also getting good response from the buyers and are expecting a good business here.
Visitors can shop from a range of diverse products such as vintage leather bag from Udaipur, Chikankari Handloom from Lucknow, traditional Madhubani painting from Bihar, a handloom art from Benaras and many more. The festival aims at promoting India's rich craft from all around the country celebrating the true spirit of diversity.