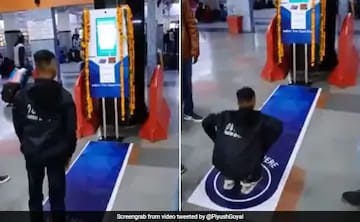 Do 30 squats in 3 minutes get platform ticket free at Anand Vihar railway station
Saurabh Kumar/Lokesh Goswami Tennews New Delhi :
New Delhi : Twitter users have given the thumbs-up to the Railways initiative to give free platform tickets to anyone doing 30 squats in 3 minutes. The 25-second video clip posted on the social media became all the rage.
In the clip posted by Railway Minister Piyush Goyal, a young man can be seen doing squats to avail a free platform ticket at the Anand Vihar rail terminus.
Mr Goyal, 55, took to the microblogging platform this morning to talk about the initiative and share a video explaining the concept. "A unique experiment at Delhi's Anand Vihar Railway Station to encourage fitness. Platform tickets can be availed free of charge by exercising in front of a machine here," wrote Mr Goyal in Hindi.
In a tweet, the Ministry of Railways futher explained that people who perform 30 squats in 180 seconds are eligible for a free platform ticket. "To encourage Fit India Program, Indian Railways has installed Squat machine at Anand Vihar Railway Station in Delhi," they wrote.
The 25-second video shared by Mr Goyal shows a man exercising in front of the squat machine. As he does so, the machine sensor detects the number of squats he does and a platform ticket floats out of it in the end.