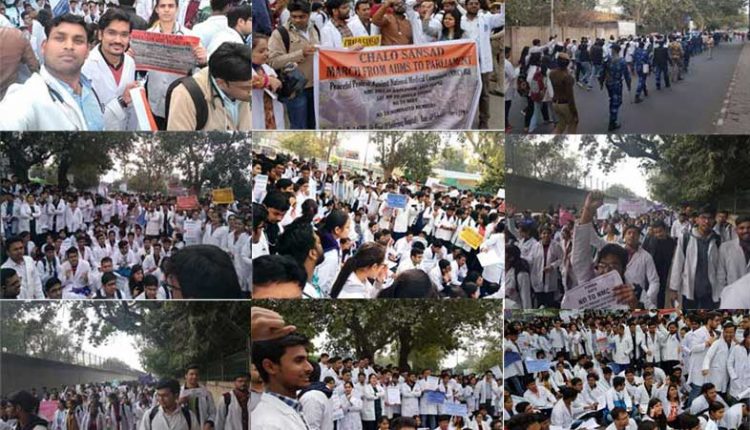 New Delhi: Hundreds of
Doctors marched from AIIMS hospital to Parliament in protest against National Medical Commission Bill on Tuesday.
The protest by the medical fraternity against the National Medical Commission Bill, which is under consideration of Parliament, is snowballing. After many medical bodies expressed disagreement with a few clauses in the bill, it has been referred to a Standing Parliamentary Committee for revision.The World Medical Association (WMA), an international forum of the medical fraternity, has warned that should the National Medical Commission (NMC) Bill be passed, more Indian doctors would be forced to head out of the country.
Delhi-AIIMS' RDA president Dr Harjit Singh Bhatti said, "AIIMS doctors oppose the current form of the NMC bill and that a representation regarding changes in the Bill was made to the health ministry" . Dr Harjit also expressed his disappointment that no official of the health ministry had communicated with the RDA.
"As we are being ignored for long by the government, the doctors of Delhi-AIIMS, Safdarjung hospital and from UP, Kerala, Punjab, Haryana, Chandigarh, Rajasthan, West Bengal, Maharashtra and Tamil Nadu will take a protest march from AIIMS to Parliament," Added Dr. Bhatti.