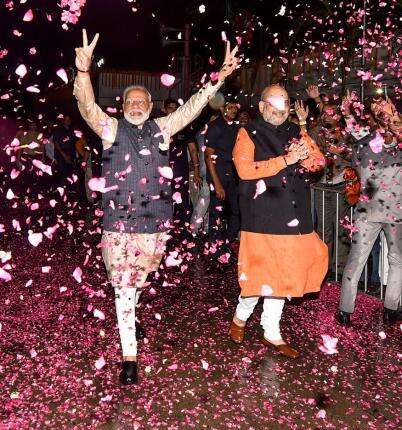 Election Results: "130 crore Indians today stood up for India", Says PM Modi in his Victory Speech
PRERIT CHAUHAN/ JITENDER PAL- TEN NEWS
New Delhi: (23/05/2019) PM Narendra Modi becoming new synonym of the word Majority for BJP lead the vote count in 300 of the 543 available seats in Parliament, suggesting a larger majority than it won in 2014.

As the counting trends showed BJP secured a comfortable majority and Wishes poured in from across the globe as Narendra Modi's BJP is leading the vote count in most of the seats in the Indian Parliament, suggesting a landslide victory.
LK Advani Gave His Heartiest Congratulations To PM Modi, Amit Shah For Unprecedented Victory and said,
"Heartiest congratulations to Narendra Modi for steering BJP towards an unprecedented victory. Amit Shah as BJP chief and all dedicated workers of the party have put in enormous efforts in making sure that BJP's message reaches every voter."
Addressing the party workers at the headquarters, BJP president Amit Shah said, " Modi government achieved a historic win by being elected twice with full majority. This is a historic victory. After 50 years someone has won an absolute majority for the second time in a row.
BJP president Amit Shah while taking a jibe at TDP chief N Chandrababu Naidu for his attempts to form an anti-BJP front in during the Lok Sabha Election 2019. "If you have made the same effort to garner votes, then you might have opened your account," said Shah.
"Even after so much violence and rigging, BJP won 18 seats in West Bengal. It tells that in coming days, BJP will establish its might in West Bengal," added Amit Shah.
Prime Minister Narendra Modi thanking and addressing BJP workers at party headquarters in New Delhi said,
"Today, the god of rain is here with us to celebrate. I want to bow down to the people of India and thank them.This election saw the highest turnout since Independence, and that too in 40-42 degree heat; this shows the commitment of our citizens. Crores of Indians have blessed us, my gratitude to the people
I salute the people who have laid down their lives for this result today."
He further said, "I congratulate the Election Commission, security forces and everyone who contributed to the polling process. This victory will be an inspiration for generations in the country."
"The 2019 Lok Sabha election were historic as it registered the highest voter turnout despite soaring temperatures. It is a testimonial to voter awareness and people's dedication to the democratic process. The whole world will have to now sit and take notice of India's democratic powers. In Lok Sabha elections, 130 crore Indians today stood up for India, just like Sri Krishna stood for humanity in Mahabharata," added PM Modi.