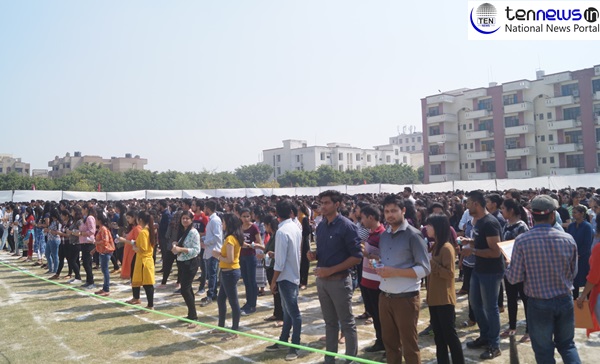 ITS enters into Guinness Book of World Record with amazing dental health initiative!
Saurabh Kumar

8/3/2018            Saurabh kumar
Today ITS Group of institution had registered their name in Guinness World Record by successfully making a record for the highest number of persons using mouth wash at the same time at three different campus of the institution.
The event took place at 3 different campuses of the ITS group namely ITS Murad Nagar, ITS Greater Noida and ITS Mohan Nagar.
For attempting this record 15,000 students had gathered in premises of ITS Greater Noida and similarly at the two other branches also. While event was taking place officials of Guinness world record were judging them at ITS Murad Nagar Campus through live streaming of event.
All students had been provided a glass and a bottle of mouth wash. On the count of zero they sipped the mouth wash and after rinsing it for next 25 seconds spat it in the glass provided. After few minutes results were declared that they had created a world record. Students looked very excited as seeing themselves becoming the part of history.