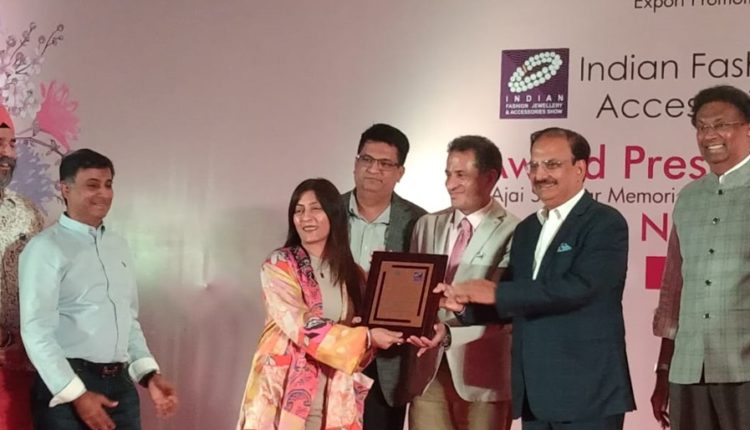 EPCH confers best display awards on exhibitors at IFJAS Day 2
Greater Noida – 21st JUNE 2022 – The Indian Fashion Jewellery & Accessories Show gathered momentum on the second day with exhibitors engaging with buyers, artisans using the opportunity of the trade platform to their best benefit & learning, ramp presentations with products from several participants at the show and guests from various Ministries from the Government of India and Dhirendra Singh, MLA, Jevar visiting the show, informed Rakesh Kumar, Director General, EPCH.
Day 2 of IFJAS was also marked by the Best Display Awards ceremony. Exhibitors were felicitated for commendable product presentation at the show. The occasion was graced by, Sandeep Chabbra, President, IFJAS'22 Reception Committee, Rakesh Kumar, Director General, EPCH, Hitesh Ahuja, Vice-President, IFJAS'22 Reception Committee, Members of Committee of Administration-EPCH along with exhibitors, overseas buyers and artisans.
The International Yoga Day was also observed with several yoga enthusiasts joining in to show their commitment to good health for body & mind. The objective of this session, led by a certified Yoga instructor, was to recognise Yoga as a holistic approach to health and well-being and raise awareness on the benefits of practicing it on a daily basis, informed Prince Malik of Fitness and Sports Committee FASCO-EPCH.
"Buyers in good numbers visited the fair during the first two days and shared their interest in placing orders with their regular and new suppliers at the fair. They have expressed their happiness at being able to visit this show in physical format after a hiatus of nearly two years. Many have been eloquent about their preference for sourcing from manufacturers they met at IFJAS through the years," said Rakesh Kumar, Director General, EPCH.
A buyer from USA, Jerry Miller who has been sourcing fashion accessories and apparel from India said, "This show has helped me a lot in finding new suppliers, many of whom have long term association with me. Indian products have market potential due to quality and unique designs. I try to find such fantastic products every time I visit."
Katie Williamson & Tom Betts from United Kingdom said, "This is the perfect show for us. We have been importing for 5 years from India and it's always great to expand. We have about 10 regular suppliers from India and we are always looking to increase business with them, helping each other grow. About 95 percent of our supplies are from India. I like the facilities arranged by EPCH. Good AC, nice coffee!"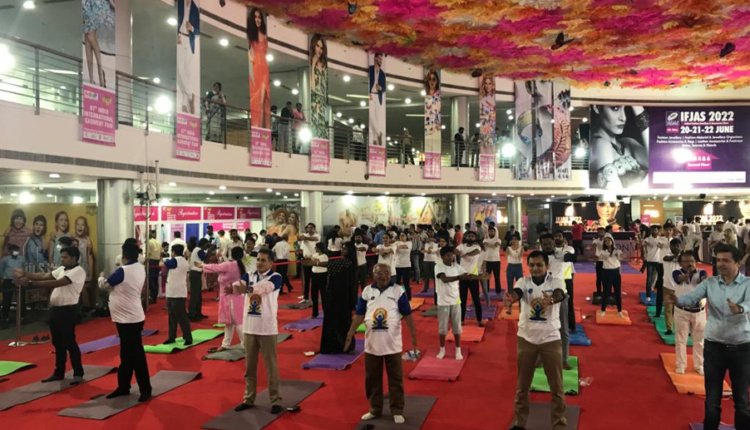 "The exclusive regional display of Indian Fashion Jewellery & Accessories Crafts from PAN India, set up at IFJAS are getting their share of attention and market exposure," said Hitesh Ahuja, Vice-President, IFJAS'22 Reception Committee.  Some of the jewellery crafts displayed have a rich history and are being continued as a family tradition, but with modish touches to suit today's trends. Lambani, Meenakari, Zardozi, Bead Crafts, River reed weaving, Kantha and Kolhapuri leather craft and footwear are just some of them, informed R.K.Verma, Executive Director-EPCH.
Speaking on the occasion, Sandeep Chabbra, President, IFJAS'22 Reception Committee informed that the Ajay Shankar Memorial Awards for Best Design & Display at IFJAS 2022 were distributed in Fashion Jewellery & Fashion Accessories segments.  The winners of best design and display stands are:-
AJAI SHANKAR MEMORIAL DISPLAY AWARDS
Fashion Jewellery
1) Adit Gandhi of M/s Rajsons Impex Pvt. Ltd, Noida received Ajai Shankar Memorial Awards for GOLD category
2) Chaitanya Rawat of M/s Manglam Arts, Jaipur received Ajai Shankar Memorial Awards for SILVER category
3) Shailja Goel of M/s Shailja Creations, New Delhi received Ajai Shankar Memorial Award for BRONZE category
Fashion Accessories
4) Preeti Jain of M/s Exmart International Pvt. Ltd, New Delhi received Ajai Shankar Memorial Award for GOLD category
5) Ashwani Bhatia of M/s Prits leather Art (P) Ltd, Noida received Ajai Shankar Memorial Awards for SILVER category
6) Rishi Soni & Monika Soni of M/s Gayatri international, New Delhi received Ajai Shankar Memorial Award for BRONZE category
Artisan/ Entrepreneur
Gunvathy, Tamil Nadu received Ajai Shankar Memorial Award
Nengneithem Hengna, Dimapur, Nagaland received Ajai Shankar Memorial Award
Srijan Das, Kolkata – West Bengal received Ajai Shankar Memorial Award
Sustainability products
Arundhati Kumar of M/s Lyke sustainable designs private limited, Mumbai received Ajai Shankar Memorial Award for SUSTAINABLE PRODUCTS
Buyer
Spyridoula Karyotou of M/s 4Queens, Greece felicitated
Lidia Gonzalez Delgado of M/s Islas Natura, Spain felicitated
Widad Kanafani of M/s Tulip Marketing, Netherlands felicitated
Katie Williamson of M/s My Doris, United Kingdom felicitated