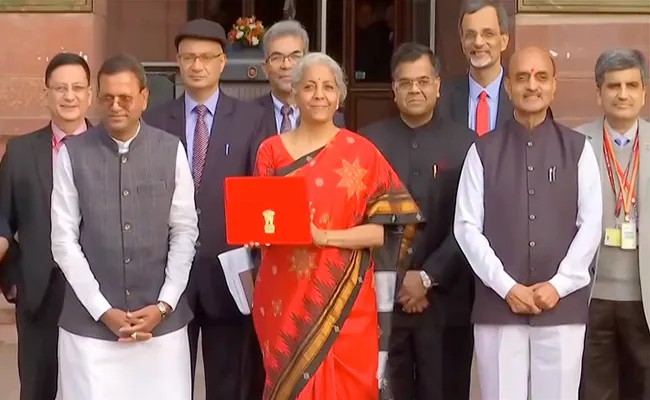 EPCH lauds Budget 2023, says it may benefit handicrafts sector
TEN NEWS NETWORK

New Delhi – 01st February, 2023: The Union Budget for 2023-24 was presented by the Smt. Nirmala Sitaraman, Union Finance Minister in the Parliament on 01.02.2023. Rakesh Kumar, Director General-EPCH said, the budget aims to facilitate economic growth and some of the measures that may benefit handicrafts sector include the following:
• PM Vishwakarma Kaushal Samman (PM VIKAS): A package of assistance for artisans has been conceptualized and will enable them to improve the quality, scale and reach of their products, integrating them with the MSME value chain.
• States will be encouraged to set up a Unity Mall in their state capital or most prominent tourism centre or the financial capital for promotion and sale of their own ODOPs (one district, one product), GI products and other handicraft products, and for providing space for such products of all other States.
• Concessional Basic Custom Duty (BCD) of 2.5 per cent on copper scrap is also being continued to ensure the availability of raw materials for secondary copper producers who are mainly in the MSME sector. Import duty on imitation Jewellery classified under heading 7117 is being increased from 22% or Rs. 400/kg, to 25% or Rs. 600/kg., whichever is higher.
• Pradhan Mantri Kaushal Vikas Yojana 4.0 will be launched to skill lakhs of youth within the next three years. To skill youth for international opportunities, 30 Skill India International Centres will be set up across different States.
• For the business establishments required to have a permanent account number, the PAN will be used as a common identifier for all digital systems of specified government agencies. This step will further help in the ease of doing business for the exporters.
• For enhancing ease of doing business, more than 39,000 compliances have been reduced and more than 3,400 legal provisions have been decriminalized.
• Credit Guarantee for MSMEs – Reducing cost of MSME Credit by 1%. Infusion of Rs. 9,000 crore in corpus for MSME credit.
• Budget for interest subvention has been increased from Rs 2376 cr to Rs 2932 cr up by 23%.
• The announcement that the Government has identified 100 critical transport infrastructure projects, for last and first mile connectivity for ports, and will be undertaking investment of Rs 75,000 crore (incl. Rs 15,000 crore from private sources), and will promote coastal shipping for passengers and freight, through PPP mode shall help reduce logistics time and cost.
• Vivad se Vishwas II: The announcement that the Government will bring another dispute resolution scheme under Vivad Se Vishwas-II to settle commercial disputes will help MSME and trade to resolve their issue on urgent basis.
Raj Kumar Malhotra, Chairman-EPCH said, there are certain announcement that may benefit the handicrafts sector which include PM Vishwakarma Kaushal Samman, wherein a package for Artisan has been conceptualized would certainly help the capacity building of the artisans engaged in the sector. Initiatives like reduction in cost of credit by 1% through infusion of 9000 crore corpus for the MSME would help the sector.
Adding further, he said other initiatives like setting up of unity mall in every state capital thus promoting the sale of ODOP products, GI products and handicraft items would give a marketing platform for the handicraft producers in the domestic market and Prime Minister Kaushal Vikas Yojana 4.0 and setting up of 30 skill India international Centre would certainly add to the initiatives taken towards skill development.
EPCH is a nodal agency for promoting exports of handicrafts from the Country to various destinations of the world and projecting India's image abroad as reliable supplier of high quality of handicrafts goods & services. The Handicrafts exports during the year 2021-22 was Rs. 33253.00 Crores (US $ 4459.76 Million) registering a growth of 29.49% in rupee term & 28.90% in dollar terms over the previous year, informed by R.K. Verma, Executive Director-EPCH.