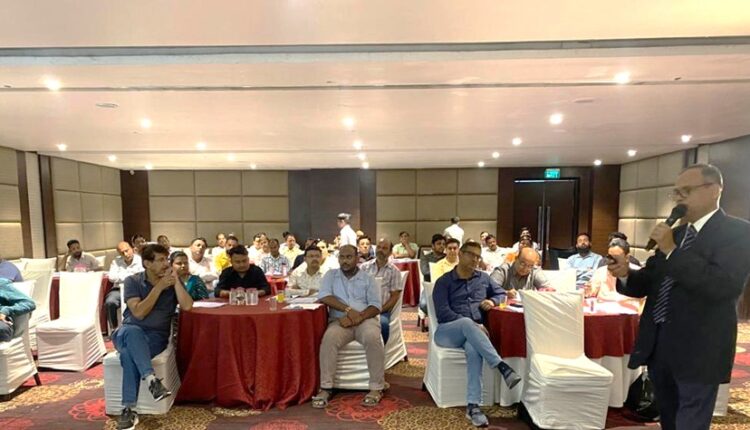 EPCH Organizes Workshop on "Innovative Packaging for Handicraft Stone Products" in Agra
TEN NEWS NETWORK

Uttar Pradesh – 09th September, 2023 – The Export Promotion Council for Handicrafts organised a Workshop on "Innovative Packaging for Handicraft Stone Products" at Agra on 09th September, 2023 (Saturday). The workshop's objective was to impart knowledge to participants on contemporary packaging strategies to improve the sustainability, portability, and consumer appeal of their product.
Dr. Madhab Chakraborty, Packaging Advisor-EPCH & Packaging Expert; Rajesh Rawat, Addl. Executive Director-EPCH and over 50 exporters from Agra were present – informed R. K. Verma, Executive Director – EPCH.
Verma further informed that this workshop is aimed to address the growing need for sustainable and visually appealing packaging solutions for stone handicraft products. As consumers worldwide become more conscious of environmental sustainability, packaging plays a crucial role in influencing their purchasing decisions. EPCH recognizes the importance of packaging as an integral part of the handicraft industry's marketing strategy.
Rajat Asthana, President – Handicraft Exporters Association (HEA), Agra shared that this workshop is very essential to keep our Handicrafts exporters up to date with changing market scenarios, and how they can remain competitive by embracing the latest packaging innovations. This workshop will empower exporters in the handicraft stone sector to make informed choices about packaging solutions, leading to increased competitiveness and a reduced impact on the environment.
Dr. Madhab Chakraborty, Packaging Advisor-EPCH & Packaging Expert informed participants about the most effective packaging trends for handicraft stone products and what businesses must implement to make their packaging eco-friendlier. He further shared few suggestive packaging prototypes developed based on the exploratory visits undertaken a month ago and feedback received from this cluster based exporters. These prototypes were designed to address the unique needs and requirements of stone handicraft products. The prototypes included Environmentally Friendly Packaging Materials, Artistic Packaging Designs, and Innovative Product Presentation.
The workshop proved beneficial to stakeholders in many ways, including providing hands-on experience in packaging techniques, discovering novel ideas to cut costs and promote sustainability, and promoting the export of eco-friendly stone products. Various questions pertaining Packaging techniques, Packaging Development and Marketing were asked by the participants. The speakers addressed all the questions and provided solutions to the exporters and concluded with positive interaction with members exporters.
Export Promotion Council for the Handicrafts is a nodal organization for promotion of exports of handicrafts from the Country and create brand image of magic of the gifted hands of millions of artisans and crafts persons engaged in production of home, lifestyle, textiles, furniture, and fashion jewellery & accessories in craft clusters of the Country. The overall Handicrafts exports during the year 2022-23 was Rs. 30,019.24 Crores (US $ 3,728.47 Million) informed Shri R. K. Verma, Executive Director – EPCH.