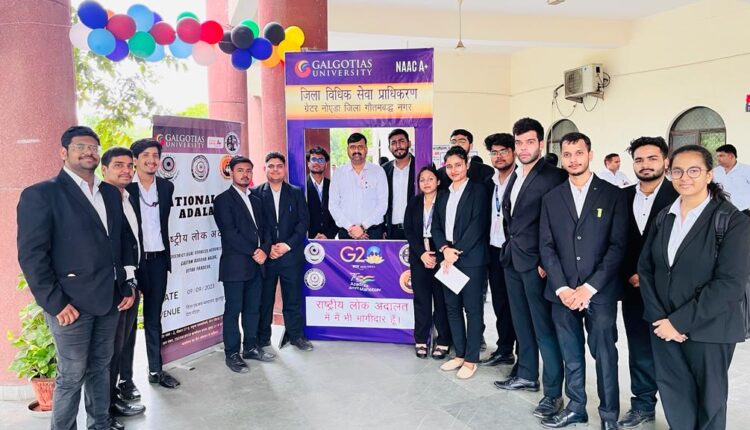 Galgotias University Students Shine at National Lok Adalat
TEN NEWS NETWORK

In a remarkable display of civic engagement and community service, students from Galgotias University took center stage in organizing the "National Lok Adalat" event held on Friday at the district and session court premises in Gautam Buddha Nagar.
The event saw enthusiastic participation from students associated with the "Free Legal Aid Center" at the School of Law, Galgotias University, who played a pivotal role in its success. Dr. Narendra Bahadur Singh, the Coordinator of the Free Legal Aid Center, and Richa Upadhyay ADJ (FTC), Secretary of the District Legal Services Authority, spearheaded the event. The Department of Law, led by Professor Dr. Namita Singh Malik, dedicatedly executed their responsibilities as volunteers.
Galgotias University students collaborated effectively with bank officials and government officers, providing valuable assistance to the general public. Dr. Narendra Bahadur Singh, the program's coordinator, emphasized that such social initiatives exemplify the university's commitment to community service, inspired by the vision of its Honorable Chancellor, Sunil Galgotia.
The university's leadership, CEO Dr. Dhruv Galgotia and Director of Operations Ms. Aaradhna Galgotia, offered invaluable guidance and inspiration for the university's active involvement in such meaningful events. Dr. K. Mallikarjun Babu, the Vice-Chancellor, and Ms. Renu Luther, Advisor to the Chancellor, played an essential role in providing administrative support.
The success of this program was a collective effort, with students like Divyansh, Devesh Pandey, Aditya, Nishtha, Jahnvi, Sanchit, Ritesh (Ruth), Akash, Sahil, Saurabh, Devesh, Utkarsh, Gaurav, Ojas, Nandkishor, Akhil, and numerous others playing crucial roles in its accomplishment. Their dedication and commitment to serving the community were truly commendable.