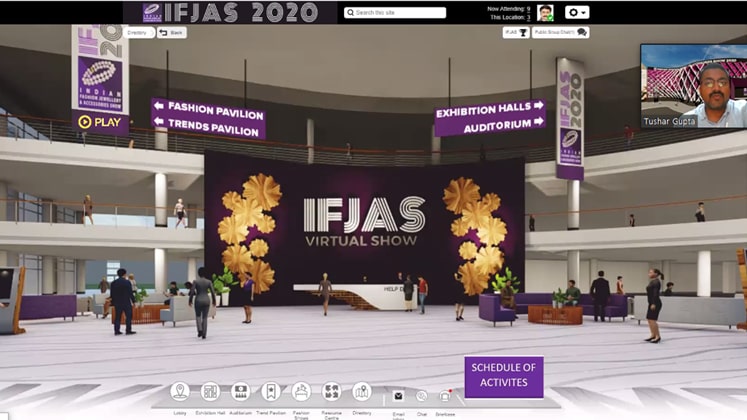 EPCH takes flagship exhibition "IFJAS 2020" online in an attempt to revive trade
In order to revive trade and to let MSMEs regain footing in middle of the ongoing global health emergency, the Export Promotion Council for Handicrafts (EPCH) has developed a virtual platform to host the 13th edition of its flagship exhibition "India Fashion, Jewellery and Accessories Show" (IFJAS 2020) during 1st to 4th June, 2020.
The virtual trade platform allows users to connect in real time during the event and allows the buyers to browse through variety of products including Fashion jewellery, semi precious jewellery, stoles, scarves, shawls, hand bags, clutch, purses, belts, wallets, neck ties, beads, stones, crystal, hair accessories, fancy fashion footwear, tattoos and bindis listed by hundreds of exhibitors.
It also allows the buyers to interact with the exhibitors through a chat option and to place orders.
Presenting India's First Virtual Fashion Jewelry & Accessories Trade Show.Take a sneek peek into the Virtual Platform designed especially for easy accessibility to visit showroom & meet with exporters virtually.Register Now – https://ifjas.in/register/

Posted by EPCH India on Thursday, May 28, 2020
Director General of EPCH, Rakesh Kumar said that this is going to be the first ever virtual trade exhibition in the country with around 800 exporters / domestic sellers awaiting the fair to began.
Kumar said that pandemic has severely affected the export sector and many cancellation of orders by the foreign buyers have taken place.
"However, a good response is expected from the overseas buyers and Indian volume retail buyers at the trade fair as vigorous publicity campaigns have been undertaken by EPCH so that the exhibitors are benefited through their interaction with the visiting buyers."
Vineet Bhatia, President, IFJAS said that the fair will preserve the employment especially in the MSME sector and it will also convey the message to other countries that India is ready to do business.
R.K Verma, Executive Director – EPCH said that several fashion shows, webinars and craft demonstration is going to be the key highlight of the virtual trade show during the 4 days.
R.K Malhotra, Vice Chairman – EPCH said that the virtual trade fair was the "need of the hour". The virtual trade platform will help save the time and money of the buyers, it also provides a chat option for buyers with automatic translation in around 40 languages, thus eliminating the language barrier.
Malhotra also raised a demand from the government that it should allow businesses to take overtime from the workers in view of the current crisis, saying that the employers will pay the overtime.