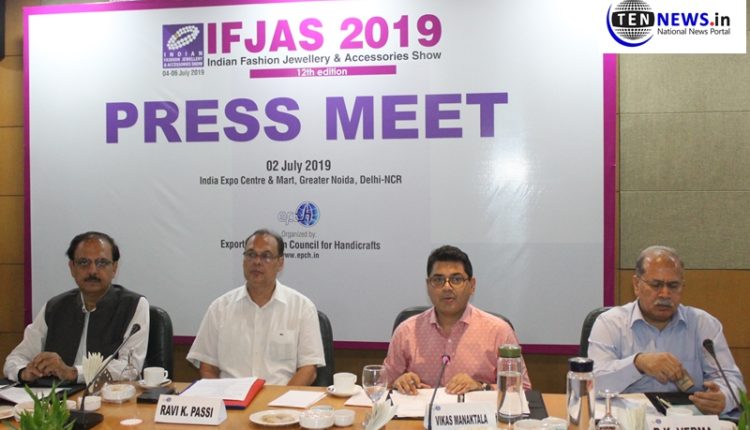 EPCH to host 12th edition of Indian Fashion Jewelry & Accessories show from 4th July at India Expo Mart
Saurabh Kumar / Baidyanath Halder
Greater Noida (02/07/2019) : 12TH edition of Indian Fashion Jewelry & Accessories Show IFJAS will be held from 4th to 6th July 2019 at India Expo Center & Mart, Greater Noida. This fair will be held concurrently with 63rd India International Garment fair to reflect and display the rich legacy of traditional Indian workmanship blended into innovative designs of fashion jewellary and accessories.
Detailing about the fair R K Passi Chairman EPCH told "This three days fair will witness more than 500 buyers from all across the globe out of which 120 will be sponsored buyers. This year we will be focusing on fashion products like fashion and costume jewelry , imitation jewelry , fashion accessories, handbags , belt, wallets, embroidered fashion shoes, head to toe adornments made out of widest range of materials and design available in the country in these categories."
"A theme pavilion on design trends and forecast on fashion jewelry and accessories for 2020 will be set up at this show apart from participation by 23 artisans and craftsperson from the eastern region, 21 from western and 20 southern regions."
Rakesh Kumar Director General EPCH describing the other details told that "As this year is the 150th birth anniversary of Mahatma Gandhi so we have dedicated a special area for that which will be inaugurated tomorrow. Apart from this 250 member exporters will be displaying a varied range of fashion jewelry and accessories with an Indian touch to it as some of them are from very remote areas of the country."
Interacting with media he told that we are expecting a great business and hoping to attain a growth of 15 percent. Answering a question in the context of China, he said: "China is no longer our competitor as China has become a big market for India and buyers are showing interest in our products because it has hand touch of our craftsman."
Handicrafts Export During the year 2018-19 was Rs 26560.25 crores registering a growth of 15.46 percent in rupees over previous year. He further added that this year till May we have done an export of 4 thousand cores".