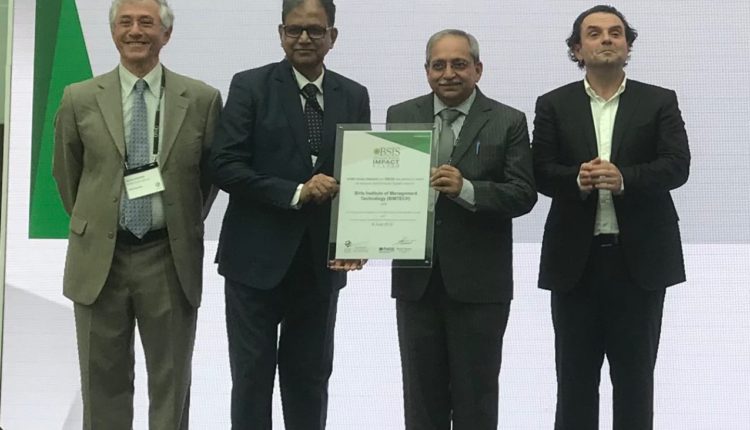 European accreditation body grants BSIS label to BIMTECH, Greater Noida, become first Indian B-school to get the prestigious recognition
Ten News Network
Greater Noida (07/06/2019) : The European Foundation for Management Development ( EFMD), an international accreditation body supported by the European Union and devoted to the quality enhancement of management education has given BSIS label to Birla Institute for Management Technology, BIMTECH, Greater Noida. This is the first time any Indian B-School, has been given this recognition by the EFMD and only 45 + B-schools in the world have so far been given this recognition.

The BSIS plaque was received by Dr H.Chaturvedi, Director, BIMTECH and. Dr A K Dey, Chairman, Centre for Management Case Development. Dr Eric Manuel, President, EFMD, Brussels, Belgium and Mr Michell Kalika has given the plaque to both of them.
This honour was given to BIMTECH in the presence of more than 500 deans and directors of B-schools attending 2019 EFMD Annual convention held at Nova Business School, Lisbon, Portugal.
BIMTECH Director Dr H Chaturvedi is also one of the speaker participants in 2019 EFMD Annual Convention at Lisbon, Portugal where more than 500+ deans and directors of global business, schools are in attendance.
EFMD is a world-renowned accreditation body for bschools founded 50 years back. It is supported by European Commission,Bruseels.
The convention started on Thursday (local time).
During the occasion, a book authored by Dr Chaturvedi was also released by Mr Eric Manuel, PRESIDENT, EFMD, for international audiences particularly for bschools community. During the launch, there was an overwhelming response from top bschools 30 copies were picked up by leading deans including deans and directors from India.