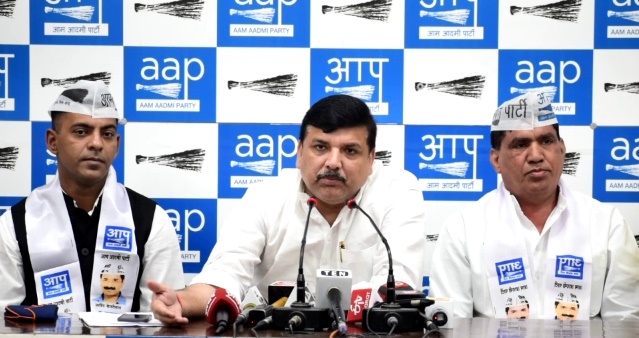 Ex Army Major joins AAP along with other BJP leaders
Saurabh Kumar (Photo-Video) Lokesh Goswami Tennews New Delhi :
Delhi: Today Ex Indian Army Major and presently a successful entrepreneur, Vikrant Khare along with other BJP leader and workers joined AAP party. Sanjay Singh, Senior leader from AAP offered the party cap to them.
Vikrant Khare has served for four years in Kashmir, later he left the army after getting injured. He also joined IIM and currently working as a successful entrepreneur.
Speaking at the conference he said "I also took my education from a government school and in comparison to that time, the condition of government schools are very good now. The work done both in education sector and health sector made me join the party.
The other leader BJP leader Chand Singh said "Because of the oppressive policy of the BJP, I thought of going with AAP. Chief Minister Arvind Kejriwal is doing a great work and wherever I go, I hear the development works done by the party. Party has presented a Role model for the country in terms of governance.
"I will put all my efforts and will work as per party principals" He said.
During the joining large number of supporters of Chand Singh remained present at the party office. They raised slogan and distributed sweets.