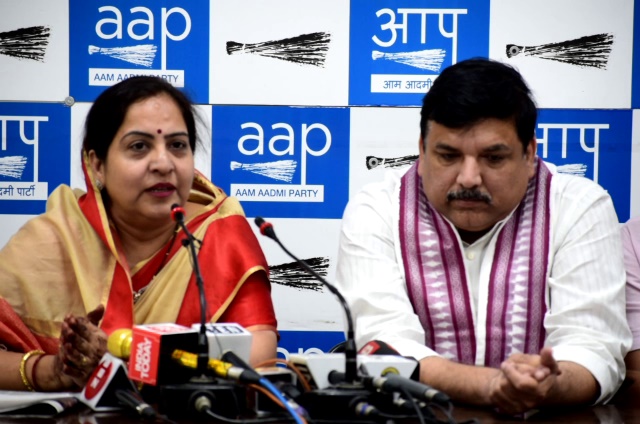 Ex Ward councillor from Congress Rekha Rani joins APP along with her supporters
Saurabh Kumar (Photo-Video) Lokesh Goswami Tennews New Delhi :
Delhi: Ex Ward councillor from Congress Rekha Rani and his husband Choudhary Virender Sing joined the Aam Aadmi Party on Sunday in presence of senior AAP leader Sanjay Singh in a press conference. Joining happened by offering party cap to her by Sanjay Singh.
Rani, said she is impressed by the AAP's work and wherever she goes she hears about the development works done by the party. Party has presented a Role model for the country in terms of governance.
"I will put all my efforts and will work as per party principals" She said.
Welcoming him to the party, Sanjay Singh said he is extremely happy that Rani joined the AAP with her husband and entire team.
Apart from this Sanjay Singh also attacked BJP quoting Vijay Goel, that he is saying if his party comes power they will stop providing subsidy over 200 unit of electricity that is being provided by APP party.
During the joining large number of supporters of Rekha Rani remained present at the party office. They raised slogan and distributed sweets and said toady we have double celebration as our leader is starting her new innings on her birthday.