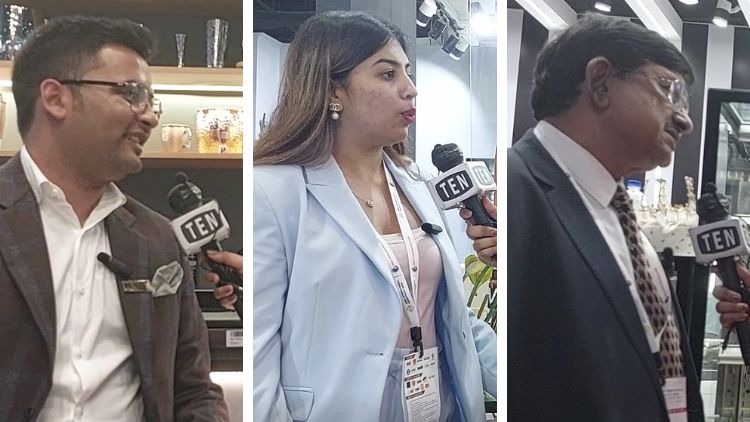 Exhibitors laud IHE 2022, term it 'phenomenal' for business opportunities
Ten News Network
Greater Noida, 4th August: The Indian International Hospitality Expo being held from 3rd August to 6th August 2022 at India Expo Centre and Mart, Noida, is receiving great response from both buyers and exhibitors, thus turning it into a win win platform for all stakeholders involved.
It is one of the biggest platforms for the hospitality and Food & Beverages industry to showcase their innovative ideas and forge partnerships with interested buyers. Talking of their experiences of exhibiting at this expo, most exhibitors shared their appreciation and lauded the business prospects that it has presented.
Vinay Lodha, MD of AH International which deals with in room solutions, housekeeping solutions, cutlery, crockery, glasswares, tableware, buffetware, is one of the key exhibitors at IHE 2022. Talking about his expectations and response so far, he said, "The response is phenomenal and unexpected. Since Noida is far from Delhi, only real buyers come to this expo. Marriott Corporate, Taj Corporate and all the great hospitality corporations have come and we have had insightful discussions with them and we are looking forward to more such interactions in the remaining two days."
Sharing similar views, Arun Mittal from Prestair Systems which was established in 1982 and are manufacturers of display cabinets, the entire range of kitchen equipment and bar equipment says, "We are one of the founding members of IHE, so we're extremely confident about the expo and its response. We have been participating in IHE since its inception and everytime we participate we have received an amazing response."
"As an exhibitor, I have a lot of expectations from the expo. This being our debut year in the expo, the first day was good, the second day was better and I hope the next two days are even great", said Akriti Khurana from the Vimal Khurana Group which has been in the business of manufacturing and exporting stainless steel products for the last 29 years.
Monik Katari from Opine Lifestyles which deals with manufacturing In-room accessories, bathroom accessories, restaurant & bar accessories, F & B displayware & serveware termed IHE as one of its kind, best platform in the country. "It should put another foot forward by increasing foreign engagements. Since hospitality is a global industry, global buyers must be included," Katari suggested.
Priyank Mehta from Traditional Handicrafts Center, Jodhpur said, "For this exhibition, we have displayed recycled and reclaimed tea code ranges for bars, restaurants and the hospitality sector."
Talking about expectations from the expo, "For now, after the two years of Covid, we are looking forward to some kind of interaction with designers, architects and hoteliers and if things go forward, we'll invite them to our warehouse and also we can customize products to their needs."
Adnan Tanweer, Jainson and Company says that venetian mirrors which they export are to be launched for the first time in the domestic market through IHE 2022. Speaking about the response in IHE, Tanweer says," The response so far has been good. But, I'm expecting even greater customer engagements."
A regular at the expo, Pranav Mehta, Marketing Manager at Synnex Group, which deals in all kinds of imported goods in the hospitality sector, terms the response tremendous. "We did the last IHE in 2019 and the response was tremendous. It's a great platform for the exhibitors and audiences to come together on a global platform and on a bigger scale," says Mehta, whose company is displaying various kinds of special coffee machines, ovens and everything that one needs to set up a restaurant or cafe.