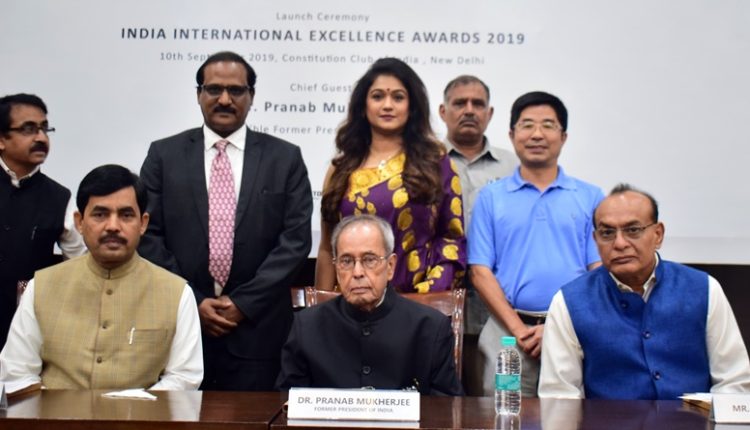 Former President Pranab Mukherjee launches SAWE IIEA 2019 Dubai edition in Delhi
Vishal Malhotra (Photo-Video) Lokesh Goswami Tennews New Delhi :
New Delhi(10/09/2019): Today, Bharat Ratna and the 13th President of India Dr Pranab Mukherjee launched Vimal Elaichi SAWE India International Excellence Awards 2019 at the Constitution Club in New Delhi.
Vimal Elaichi SAWE India International Excellence Awards 2019 aims to reward people who have done exceptional efforts in their work as we believe it inspires and motivates others to work hard as well. The likes of Bollywood filmmaker Madhur Bhsndarkar, Comedian Sunil Grover. Prerit Goel of Gulf Petrochemicals, B R Shetty of UAE's NMC group, Rizwan Sajan of Danube, Dubai, Thumbay Moindeen of Thumbay Group and Vijay Samyani of Concept Group are among the long list of awardees for the 2019!
The launch event was attended by Shahnawaz Hussain (National Spokesperson of Bhartiya Janta Party) and many from the Delhi social circle graced the evening.
The gala award night will be hosted at the Armani Hotel on 14th September with a lot of Bollywood entertainment for the invited who's who of Dubai. Bollywood Actors Anil Kapoor and Chitrangada will be presenting the awards along with other dignitaries while actors Aman Verma and Mandira Bedi will be hosting the gala awards.
Ajay Singh of Orange Events International said, "The whole idea is to celebrate and reward the outstanding achievements of members of Indian community living in various parts of the world through IIEA and am very excited from the response Dubai has given for this edition."