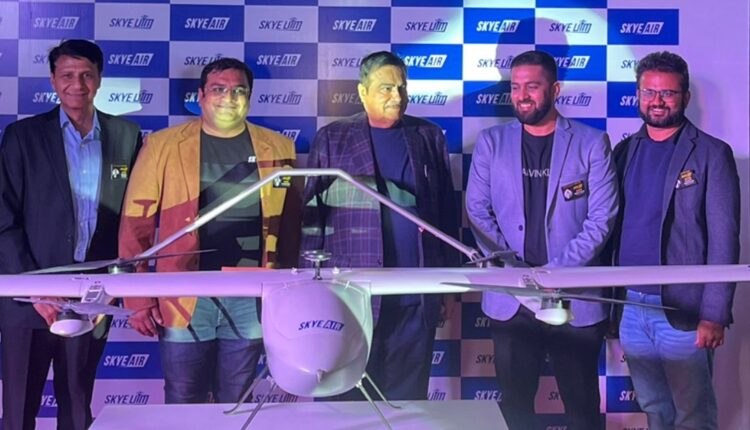 Gadkari Launches Skye UTM, India's First Traffic Management System For Drones
TEN NEWS NETWORK
New Delhi (07/02/2023): Union Minister of Road Transport and Highways Nitin Gadkari, on Tuesday, launched traffic management system for drones in India which has been developed by a Gurugram-based drone solutions provider, Skye Air. The software will allow drone operators to plan routes, make flight plans and assess risks. The solution, called Skye UTM, is a first-of-its-kind for India.
Unmanned traffic management systems will play an important part in how airspace is maintained, allowing several beyond visual line-of-sight (BVLOS) drone operations to be operated concurrently by various corporations. Several firms, like AirMap in the United States and Airbus in the Netherlands, provide such solutions globally.
According to Ankit Kumar, CEO of Skye Air, Skye UTM imports data from the government's Digital Sky platform, which was developed to assist drone operators in planning flights in Indian airspace. The platform, which was originally deployed in 2018, provides operators with critical information for conducting drone operations in the nation. The Directorate General of Civil Aviation is in charge of it (DGCA).
Skye UTM, according to Kumar, will provide operators a "better knowledge" of where they may fly. India's Drone Rules 2021 provide red, green, and yellow zones to limit where private entities can fly. Such data may be gathered from systems such as Digital Sky, which SkyeUTM facilitates while also contributing new data.
BVLOS refers to drone flights where the pilot cannot see the drone. They allow firms to run drone missions over greater distances, required for logistics, medicine delivery and more. Kumar added that Skye UTM will also offer latitude and longitude data, which are unavailable on Digital Sky.
Information about Skye UTM drone flights will be shared with authorities prior to takeoff. Once an operator submits a flight plan, the information on the drone license number, drone operator's contact, flight plan, purpose of flight, and duration and time of flight will be shared with the Airports Authority of India (AAI), which can then reject a flight if it finds inconsistencies or potential disruptions with aircraft/helicopter operations.
The Union Minister for Road Transport and Highways, Nitin Gadkari, during his address, announced the ministry's plans to utilize drones for efficient and cost-effective activities. The minister stated that "Drones will be employed across various sectors, including construction, agriculture, healthcare, defense, infrastructure, surveying, real estate, and transport."
Gadkari added that "there is ongoing research to enhance drone usage" and expressed his support for drone startups. The ministry will be inviting participation from drone companies for real-time monitoring of highway construction and fatal road accidents and is preparing to launch a tender for its execution.