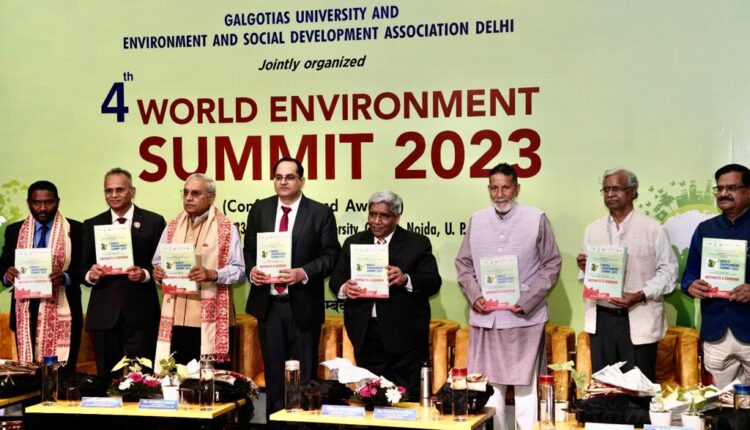 Galgotias University hosts Fourth World Environmental Summit 2023

Galgotias University and the Environment and Social Development Society (ESDS India) in Delhi jointly organized the Fourth World Environmental Summit 2023 on Saturday.
The Fourth World Environmental Summit, held at Galgotias University, featured a keynote address by the guest, Justice Shri Sudhir Agrawal, delivered entirely in the national language, Hindi. He appealed to the youth and educators, emphasizing that there is nothing more significant in this world than embracing one's homeland and mother tongue. He stressed the importance of respecting nature for environmental conservation, as neglecting it can result in dire consequences. Trees and water provide us with life, and it is our responsibility to protect them.
Chandi Prasad Bhatt, the main architect of the Chipko Movement for the protection of trees in Uttarakhand, and the chief guest of today's program, spoke about the significance of environmental conservation. He stated that environmental protection has become a global challenge, and we should express our love for nature. Failing to do so can lead to catastrophic consequences.
Dr. Jeetendra Nagar, the Organizing Secretary of the Fourth World Environmental Summit 2023, welcomed all the guests in his opening speech, highlighting the importance of the event as an opportunity for students and everyone present to witness the wisdom and invaluable ideas of the nation's great personalities.
Professor A.N. Pandey, Principal of Dr. Bhimrao Ambedkar University, Delhi, discussed the primary objectives of the Fourth World Environmental Summit 2023, emphasizing the essential steps needed for environmental protection.
Dr. K. Goyal, Chief Scientist and CSIR-NEERI (Delhi) Director, also spoke about the key issues related to environmental protection and the global responsibility it entails. He stressed the importance of taking concrete steps on a global level to address issues like air pollution and climate change promptly.
Dr. Markandey Ray emphasized the need for swift action to address the challenges arising from urbanization and industrialization, leading to environmental pollution and climate change.
Sunil Galgotia, the Chancellor of Galgotias University, mentioned that environmental conservation has become a critical issue for the entire world due to environmental pollution and climate change. He emphasized the importance of honest, ground-level efforts to safeguard the environment and announced that special sessions focusing on environmental protection would be held during the summit.
Aradhana Galgotia, Director of Operations at Galgotias University, highlighted the need to care for trees like children if we are to protect the environment. She emphasized the importance of planting more trees and ensuring their safety.
Raj Bhati, the program coordinator and Director of the Marketing Department at Galgotias University, acknowledged the substantial participation of scientists, doctors, researchers, environmentalists, educators, journalists, social workers, industrialists, and students from all over the world. He expressed his gratitude for their contribution and predicted that this summit would be a memorable event with everyone's collaboration.