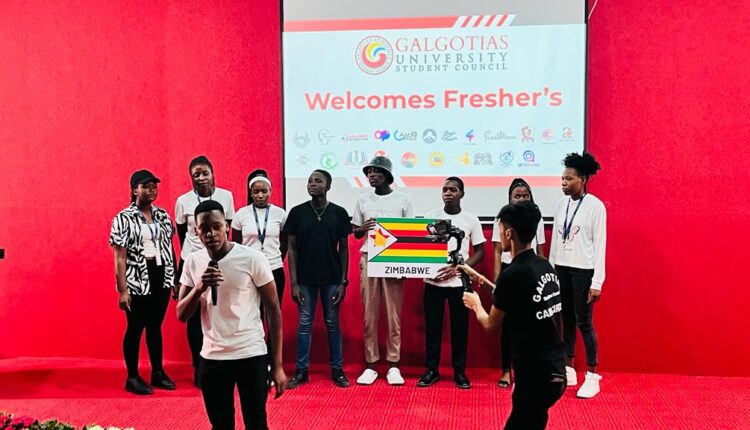 Galgotias University hosts grand orientation program to welcome international students
TEN NEWS NETWORK

Greater Noida, 5th Oct: A grand orientation program was organized on Wednesday at Galgotias University to welcome international students.
The program commenced with Saraswati Vandana along with lighting of the lamp.
Dr. K. Mallikarjuna Babu, Vice Chancellor of Galgotias University extended a warm welcome to the international students and said that they have now become members of the Galgotias University family. He addressed the students with comprehensive information about institutes regulations and guidelines and also suggested that they must maintain the norms diligently. Alongside, he also assured the students that the University is committed to extend support if they face any challenges during their stay at the University.
While welcoming the international students, Advisor to the Chancellor, Dr. Renu Luthra emphasized that today is an important day of our lives not only because the students are embarking on a new journey to education but also they have gotten the opportunity to explore and understand each others' culture too. Dr. Luthra encouraged the students to embrace this experience and make the most of it.
Dr. Awadhesh Kumar, Vice Chancellor of the University talked about India's own vision of "Vasudeva-Kutumbakam"- "the whole world is one family". He mentioned about India's commitment to global welfare and shared an example of the pandemic where India selflessly provided medicine to the entire world.
Sunil Galgotia, Chancellor of the University, while extending his best wishes to the students encouraged the students to indulge in discipline and hard work so that they can realize their potential and follow their dreams.
Dr. Dhruv Galgotia, CEO of Galgotias University motivated the students to think and dream big and have the courage to transform their dreams into reality.
Ms. Aradhana Galgotia, Director Operations shared the reference of a scientist and encouraged the students to not take failures and give up, rather consider them as opportunities and learn.
During the cultural programme, the Zimbabwean students presented a wonderful welcome song. The Nigerian students expressed their fondness for India and mentioned that they are overwhelmed by the relationship between the two nations. Supriya, an Indian student performed a classical dance, Bharat Natyam, dedicated to Lord Shiva and Pooja Gautam delivered a captivating Nepali dance performance.
The program was conducted by Medhya Gupta and concluded with the national anthem.